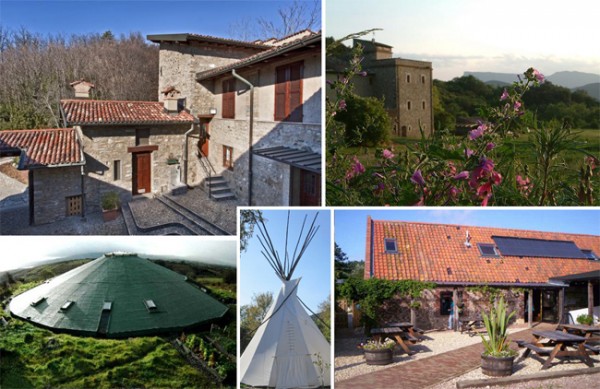 Whether you consciously seek out accommodation with great eco credentials or not, it's always good to know what some people in the travel industry are doing to reduce their environmental impact and appeal to the environmentally-conscious traveller. And as ecotourism is steadily becoming part of mainstream travel, accommodation owners are integrating sustainable and responsible practices as commonplace, making it much easier to find green stays on any trip.
Listing each and every eco hostel I know of, or have come across, would make for a crazy long post, so instead here are five that I've either stayed at, or plan to:
Middle-Earth fans, this one's for you. If you've spent far too many hours wondering what it would *really* be like waking up in Hobbiton, but the film set in New Zealand is too far to get to, then this could be your dream come true.
Half buried in the earth, this 100ft diameter solar and wind powered circular fort was constructed entirely from renewable sources, including sheep wool insulation, bagging it the first hostel in Europe to be awarded the EU Eco Label.
If that isn't impressive enough, the building was also designed to align with the dawns and dusks of the summer and winter solstices when light hits the great central hall. If that doesn't appeal to your hidden fantasy leanings (or inner hippy), then what will?
When I was looking for information on CEL I found plenty about its setting – in the lush Girona countryside; about the inspiring environment where you can be at one with nature, exploring the surrounding walking trails, and how you can enjoy the sustainable and permaculture practices that the owners are so passionate about. But what intrigues me is that no one has mentioned the building! Look at it. It oozes character. Once a working farmhouse, this wonderful Catalunyan hostel would be worth the 25 km drive from Girona just to spend a day soaking up the atmosphere.
At CEL, it's all about organic produce, and that's all you get in the adjoining shop and restaurant. Accommodation wise, there are 29 beds available, but you are also welcome to camp in the grounds.
Nestled among the ferns of Spina Verde Regional Park in northern Italy, this eco hostel is the perfect spot for those wanting to spend a few days exploring the area. Butting the Swiss border, and not far from the infamous Lake Como, the park holds much more than just walking trails and bike paths. Here you'll find a handful of archaeological digs dating back to pre-Roman times, a number of churches (well, it is Italy), trenches dug in the first World War, and the wonderful medieval Baradello Castle.
The hostel is an old stone farmhouse with a wonderful outdoor patio area. There are single sex and mixed dorms, as well as private rooms available.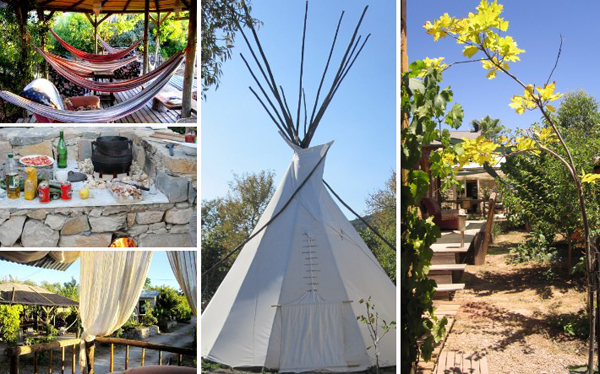 Surrounded by carob, almond and fig trees, with hammocks hanging from the verandah's rafters, Eco Hostel Algarve looks just as you'd imagine an eco hostel would. Stuart and Owl, the owners, run a clean, friendly, fun and chilled place to stay that is close to both the beaches and Ria Formosa Nature Reserve. Visitors can explore the area via walks that pass by the property, or check out the nearby Roman ruins and Estoi Palace. The area is also renowned for its great bird watching spots.
There are a few unique accommodation options – a replica Goan co-co hut, a tepee and two cabins – and there's a wonderful outdoor lounge where you can while away the hours reading, writing, chatting, or doing absolutely nothing at all!
There aren't many 17th century buildings that can boast 21st century eco credentials, but at Deepdale when they decided to restore these wonderful buildings back to traditional Norfolk style, they included modern green technologies to reduce their environmental impact, and added a few other unique flourishes, too. This multi-awarded winning hostel also has yurts, tipis and camp sites in their accommodations list.
Hostel staff get involved in guided walks, conduct surveys of the local habitat and participate in woodland management projects. Sustainable practices include growing their own wheat, sugar beet and barley so they can make home-made bread, sugar and beer! A hostel that makes their own beer? Now that's my type of place.

*This post was brought to you by HostelWorld, who have a range of eco hostels around the world.
Have you stayed at an eco hostel? Which one? Share it with us in the comments.