Lead image: Jean Spector
Known to the Maori as Aotearoa, or Land of the Long White Cloud, New Zealand certainly packs a punch for all the size of the country.
Made up of two main islands – the North and South Islands – and a collection of smaller islands, NZ offers an amazing diversity of natural landscapes across a land area of just 103,738 square miles; about the same size as the state of Colorado.
In the North Island, you'll find wonderful sandy beaches and undulating green hills, geysers and hot springs, Maori villages rich in heritage and culture. By stark contrast, the South Island is home to snow-capped mountain ranges and fjordlands, massive glaciers and lush rainforests, and more wineries than you can shake a stick at.
Finding somewhere to stay is never a problem, but if you're vying for somewhere that appeals to your green side, then you will be spoilt for choice. Here we present just five of the many wonderful lodges available across the country.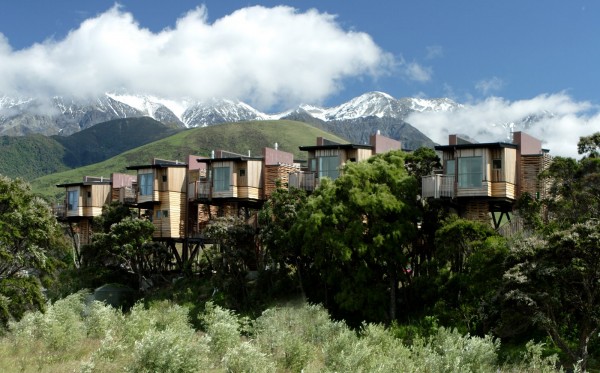 Located in the small seaside town of Kaikoura on the South Island, halfway between Christchurch and Picton, Hapuku Lodge offers some of the best sea views from the best position – the tree tops. Jutting up above the canopy of a native manuka grove are five luxury tree houses offering spectacular 360 degree views of the surrounding areas. An additional six guest rooms can be found in the main lodge.
Built by a family of architects and designers using sustainable and recycled materials, Hapuku Lodge features hand-crafted furniture, tailor-made beds, spa baths and fireplaces.
The lodge is built on a former sheep farm, for which a lot of land was cleared and what was left was poorly managed. The current owners aimed to redress the balance by planting native trees and re-introducing native birds to the area. So far, there have been over 11,000 trees planted on the site, and for every night a guest stays at the lodge another one is planted.
Prices: For $295 (plus GST) for one night during the winter you can enjoy a 3 course fireside dinner for two created and prepared by Masterchef Finalist and Head Chef, Fiona Read; a bottle of Marlborough sparkling wine upon arrival and full a la carte breakfast.
Overlooking Waihi Beach, Manawa Ridge offers guests a chance to get away from it all, yet still be within easy reach of the hustle and bustle of some of the neighbouring towns. The historic gold mining town of Waihi is only a 10 minute drive away, and the city of Tauranga less than an hour south.
But if you book into the lovely Manawa Ridge Lodge there's little doubt you'll want to go anywhere else. The owners originally fell in love with the area when they visited one of the secluded coves nearby and decided to make something more than a home there.
A true eco build, Manawa Ridge is composed of strawbale and mudbrick, with recycled timbers. Sitting at the foot of the Coromandel Peninsula, the wide balconies offer panoramic vistas on a grand scale.
There are just three suites on the complex, which can be fully catered for, or not, depending on how much you want pampered during your stay.
Prices start at $850 per room per night. Current special: Stay one night and receive a 5-course dinner and drinks for two for FREE!
It would be a crying shame to visit New Zealand and not discover something of the Maori culture. In the North Island, just 15 minutes from Rotorua, sitting on stilts on the edge of Lake Tarawera is the luxurious Pounamu Lodge.
Named after the sacred greenstone of the Maori, Pounamu is revered for its beauty and looked upon with respect and pride, which are the same principles the owners of this lovely lodge adopt when looking after their guests. They call it "Manaakitanga" – the ultimate in hosting and care for people.
Created to showcase the rich heritage of the Maori culture, the architecture and artworks lend in telling the story of these very proud indigenous people. Here you are invited to taste Maori influenced cuisine and experience the Maori way of life, including guided walks, lake cruise and private Maori cultural performances.
Prices start at $480 per night for single occupancy, $540 for a double room.
Awaroa Lodge, Abel Tasman National Park
What I love above Awaroa Lodge is that, apart from being in the heart of the beautiful Abel Tasman National Park, it has no road access. The only way to get to this wonderful example of an ecolodge is by kayak, water taxi, on foot, or helicopter. If you choose to stay here, you must really want to!
And here's why you would: The owners of Awaroa Lodge are so committed to the ethos of ecological and bio-organic sustainability that they are contributors to the Nelson-Tasman Sustainable Tourism Charter, and work within the world recognised Green Globe 21 standards, so you know if you stay here you're getting the real deal.
When building the lodge, they were ever mindful of the existing habitat and showed restraint with the size of the rooms and lodge so that it didn't encroach too much on the surrounds.
Due to its location within the National Park, getting rid of rubbish is difficult, so recycling everything is important here. Guests should know they work on a "What you take in, you take out" policy, so you are responsible for getting rid of your own rubbish, which I dare say would help keep it to a minimum. The abundant organic kitchen garden is fertilized using composted food scraps and any glass waste is ground down and used in rebuilding materials.
There is a choice of rooms, including a huge family room that sleeps up to six people. All of them are well kitted out, with ensuite bathrooms and kitchens. Each one has a little private outdoor area, too, where you can sit, relax and take it all in.
Prices range from $295 for a standard room for 2 per night, to $415 for a superior suite. High season costs around $100 more per room per night. Note: The lodge is closed for winter but will reopen 26 September 2012.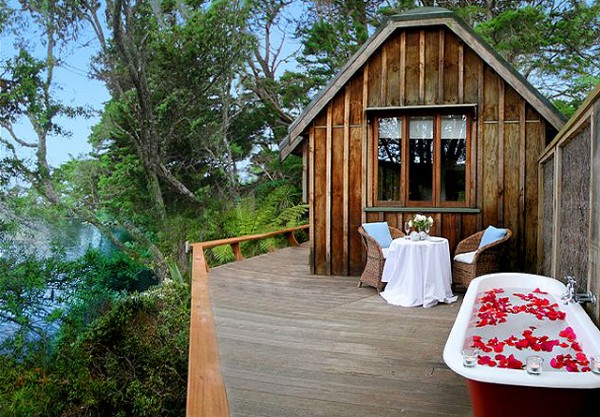 Perched among the pohutakawas, on the edge of the Takou River, it's easy to see why Magic Cottage was voted one of the Top Ten Luxury Lodges in New Zealand.
Surrounded by acres and acres of native bush and organic pastures, Magic Cottage is one of three self-catering cottages on the Takou River complex. There is also a main lodge, which is probably the most luxurious of the lot, with the obligatory log fire and spa bath. Here they've gone for a spot of opulence, with a top-of-the range kitchen, cathedral ceilings and uninterrupted views of the sprawling natural habitat outside. But it is the cottages that draw couples looking for a perfect romantic getaway – the al fresco claw-footed bath is a particular favourite of those who visit.
Seek out a secluded swimming spot along the river, or take off on a kayak, stopping at one of the deserted beaches nearby. Whatever you choose to do, there's no doubt with a place like this your stay is bound to be magic.
Prices range from $220 to $300 per night for 2 people.