All photos © Gabi Logan
After a four hour drive up from Atlanta, GA (unfortunately Asheville is a bit difficult to reach with eco-friendly means), we were famished and plopped ourselves down at the last outdoor table at Chai Pani. A New York Times 36 Hours piece had led us to this colorful, crowded joint, a peculiarly authentic outpost of Indian street food rivaling anything we can get in New York.
But when I headed inside to use the bathroom, I was arrested by a series of signs detailing the restaurant's relationships with local farms, highlighting favorite farmers, and proponing Chai Pani's sustainability measures.
This was not an Indian restaurant. This was actually nirvana (as far as I was concerned).
To be honest, when we first sat down at the computer to make a list of our "must eat" places in Asheville, North Carolina, on a recent weekend trip, we were confused.
The city website listed 63 farm to table restaurants.
First of all, I live in one of the world's foremost culinary cities, and I don't think we have that many farm to table restaurants.
But more importantly, Asheville is supposed to be a small town. In the mountains. With little more than 83,000 residents. How did such a small town supposed so many wonderfully eco-friendly places?
Shhhhh….Don't Tell Anyone

That's how residents feel.
When Asheville was named one of the Best Vegan Towns to Live in by VegNews magazine, they didn't even discuss the food, just the "Keep Asheville Weird" and "Don't Move Here!" bumper stickers. (There are 30 vegetarian restaurants though, if you're curious.)
Despite the fact that it's been named:
America's Best Vegetarian-Friendly Small Town;
one of the 20 Greenest Spots in the Country;
one America's 10 Greatest Escapes;
home of one of the Top Ten Summer Beer Festivals;
one of the Tastiest Towns in the South,
one of America's Best River Towns;
Reader's Choice for the Most Romantic Place in the USA and Canada;
one of Tripadvisor's 15 Destinations on the Rise;
and home to two of Conde Nast Traveler's top rated properties in the nation;
. . . maybe 1 in 20 people that we told about our trip had actually heard of it.
An Urban Eco Oasis (Mud Huts Included)
Like Chai Pani, we arrived at our accommodations late in the evening. Since my husband booked a room on AirBnb, which is a fantastic way to insinuate yourself into local communities, I was excepting friendly, perhaps a bit particular hosts, but not this.
We were staying in a one-acre farm, sustainable community, eco conference center, and natural building school. In the middle of a quiet, residential, otherwise average suburban Asheville neighborhood.
Ashevillage has everything you always wish your ecolodge would have. Water coolers dispensing water collected at a nearby spring. A 5 level water recycling system that feeds into a swimming pond. And, wonder of wonders (I didn't even know these existed), an herbal apothecary CSA providing locals with herbal tinctures on a sliding payment scale based on income.
To say that I never wanted to leave would be a distinct understatement. (And yes/no, they do have some job openings if you're wondering.)
Follow the Signs to Local Goodness
As we wandered our way around the downtown, which extended over 40 packed blocks even though even though after block it seemed like we were on a new small down main street, a refreshing trend became apparent.
From the open-late, high-calorie chocolate drink and dessert shop French Broad chocolates to, High Five Coffee Bar, a coffee snob approved espresso bar in a warehouse district on the other side of the highway, to our new favorite Indian place, the signs were clear: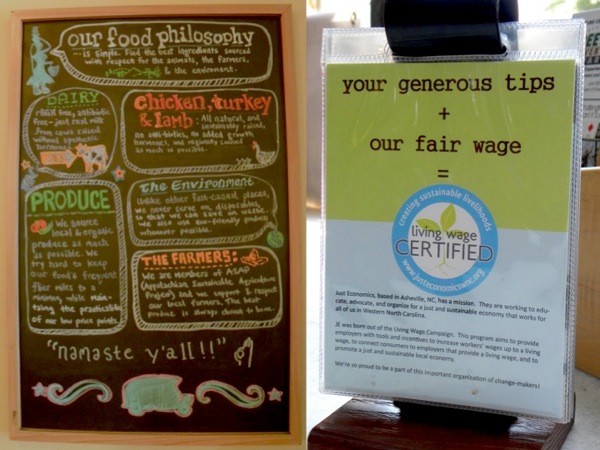 In one weekend, we barely made a dent in trying all the local food goodness the city has to offer. We only made it to the smaller, Saturday farmer's market
. . . where we scored crisp, vine-ripened cucumbers (not yet in season up north at this point) to snack on on our drive back, so I can't even imagine how much a foodie would faint over the "real" Sunday market.
We barely made it into the surrounding mountains (Asheville is a gateway to Great Smokey Mountain National Park and the Blue Ridge Parkway), and we only sampled a handful of restaurants and shops with locally produced goods.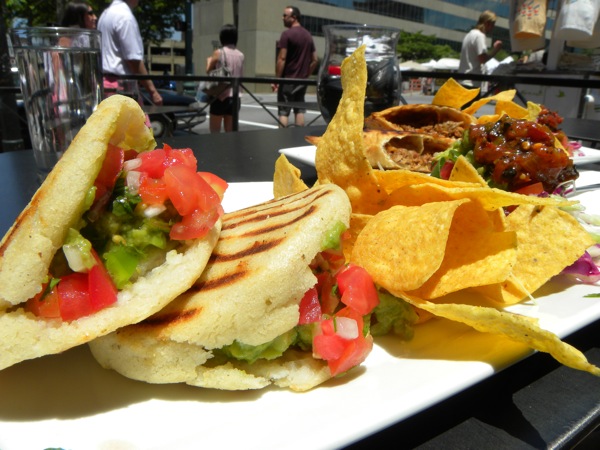 We can't wait to go back. And though my husband begged me not to share our new find with too many people, I hope you can make a pilgrimage to my new favorite ecotravel heaven soon too.
Have you been to Asheville? Or discovered another great eco-hideaway this summer?