Perched on the edge of the toilet seat I tried to relax, desperately hoping no unflattering toilet sounds would escape and awaken my neighbours on the other side of the wall. Ordinarily, I wouldn't worry, but when you're spending a penny in an open-air loo it's a totally different story. This was just one quirk in our new accommodation in Bali, which we explored with a mix of excitement and trepidation.
The sun was setting, leaving its trademark pink and orange stripes across the sky, and I knew somewhere out there in the quickening darkness sat Bali's most sacred mountain, Mount Agung. Squinting through tired eyes, I strained to make out the shape of this active volcano, but couldn't quite see through the clouds. It would have to wait till daylight.
Turning my attention back to the villa, I tried to get my head around the architecture our new space. Challenging the Western norm of four walls and a roof, our living and dining area had no walls at all. It was entirely open to the elements.
Of course, I had expected this as I did my usual research prior to coming and spent far too much time online inspecting every orifice remotely available via broadband. Still, pictures are never as good as the real thing.
Sitting high on a hilltop, with panoramic views overlooking Labuhan Amuk Bay and Badung Strait, Bloo Lagoon Village in Padang Bai feels a million miles from the frenetic, hedonistic hotspot of Kuta. Here on the east coast life moves at a much slower pace. Development is minimal and most of the tourist trade is from people passing through the ferry terminal to neighbouring Lombok and Gili Islands. There are a few places to stay along the waterfront, some with adjoining bars and a handful of dive centres (Padang Bai is THE place to come for diving in Bali), but nothing on the scale of the south of the island.
As the warm breeze blew through the villa, I followed the girls through the sliding doors into one of the bedrooms. They had quickly claimed the room with the ensuite, which also happened to be the smallest so suited me fine. Within seconds they had released the mosquito nets from their holdings and were deep in play. It doesn't takes kids long to feel at home.
Creating a Sustainable Eco Resort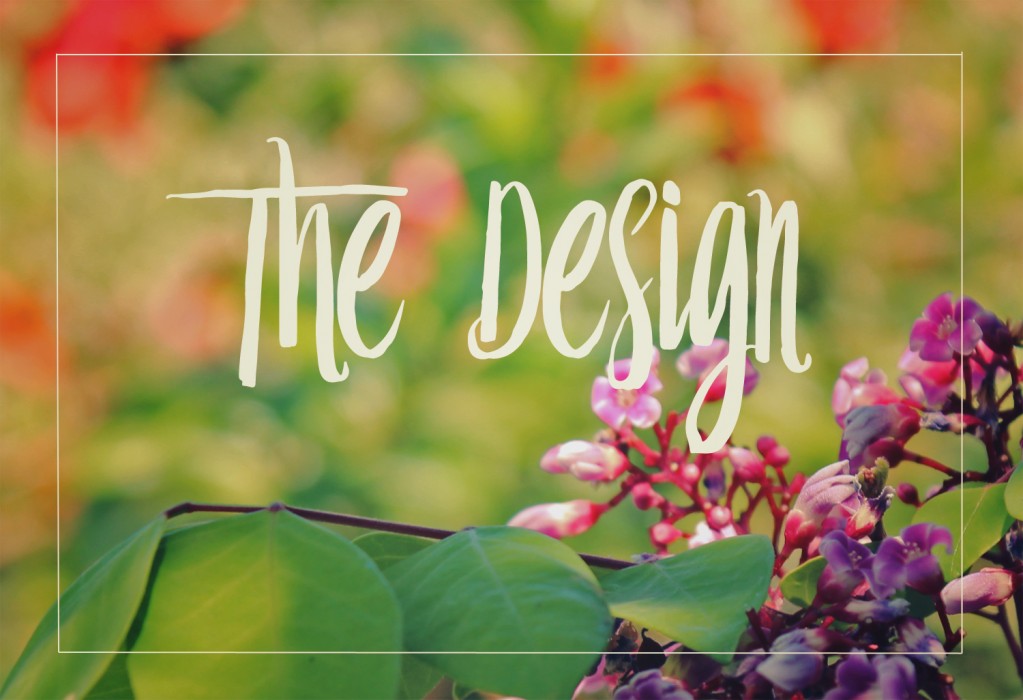 Designed by architects Marita Vidal and Tony Gwilliam and built by the local community, Bloo Lagoon consists of 25 unique villas, which have been constructed using sustainable principles keeping in mind the local community, their religious ideals and the environment.
Having built previously in Ubud, partners Tony and Marita are well-versed in the legalities and nuances of building in Bali. Their experience made them acutely aware of the interruptions that could delay the build – mainly the myriad ceremonies peppering the life of Balinese Hindis.
Otherwise known as 'The Land of the Gods', Bali's main religion plays a prominent role in everyday life. Each morning, beautiful yellow clad ladies carry trays of 'offerings' around the resort, presenting them at alters dotted through the complex. Each offering is intricate in their design and made with love. These offerings are essential to appease the ghosts of the past and God.
Regardless of ceremonial necessity, it only took two years to build Bloo Lagoon. Tony and Marita put this down to the skills of the local community, who know how to build traditional Balinese structures quick and well. The villagers and elders were consulted throughout the process, not just the build. Environmental assessments of the surrounding habitat were made and the resort was designed to have as little impact as possible on the environment.
Solar panels are used throughout the resort, they recycle all water – grey water is used to water the plants, and there are eight water catchments on the grounds to store water for future use. All food waste is composted and recycled onsite, without the use of chemicals. A collection of veggie patches produces a huge amount of food for consumption in the restaurant and cats keep vermin at bay.
It really is the epitome of an ecotourism resort.
The International Ecotourism Society defines ecotourism as, "responsible travel to natural areas that conserves the environment, sustains the well-being of the local people and involves interpretation and education."
Here at Bloo Lagoon 75% of their employees come from the Padang Bai village. Young girls, especially, are keen to get out of the home and learn new skills, and Tony and Marita are keen to help them, encouraging education where they can.
Open and Airy Living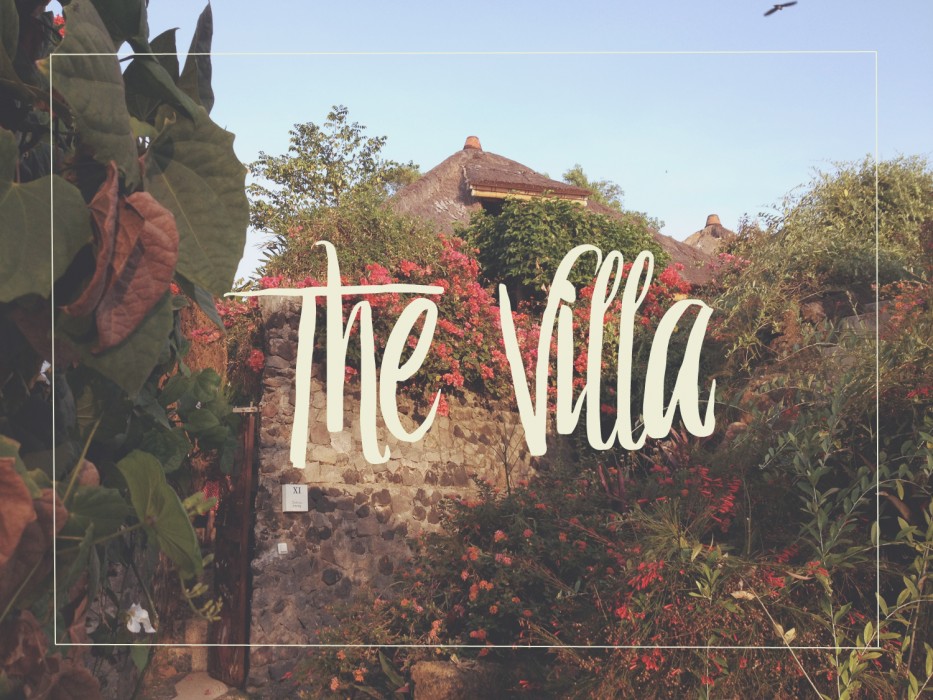 Each villa is specifically designed to be in keeping with the lay of the land of that particular site, so each one is built slightly different. We stayed in a two bedroom villa just above the pool, which is perfect in one regard if you have children, but not if they're spirited little things who are convinced they can swim when in fact they're far from able. It would have been more settling to have a gate that was at least lockable so my eldest, who at the time was only four, couldn't escape to show off her sinking stroke.
At first, I wasn't sure how I'd cope with the open-air living area, especially if the mossies were getting a little too fresh on the flesh, but after five days in the same place the open plan layout had totally won me over to the extent I was wishing we had something similar back home.
The living room had a sofa and two armchairs and there was a table in the kitchen, but there were only two high stools, which were totally unsuitable for children, moreso for a family of four. If I was staying again I would definitely want a usable family dining area. However, the restaurant on site was open most of the day and served great Asian food so I chose to accept the lack of adequate dining facilities in the villa as a sign to not cook for the entire stay. Sometimes you've just got to accept the hand you've been dealt.
Two bedrooms lay off the main living area – one with an ensuite, the other bathroom just beside the bedroom leading off the living room. Both bedrooms were entered via sliding glass doors which offered a decent level of privacy when the linen curtains were pulled across. However, the level of privacy attained is visual only. You can hear everything, and that's no exaggeration.
There are gaps between the roof and the walls (see below) to ensure optimum natural ventilation, and it works well, but if you're a couple vying for a spot of hanky panky you would need to be very, VERY quiet – or be completely uninhibited, depending on the mood!
Each bathroom was an outdoor experience, which is cleverly designed to allow odours to dissipate into the ether, but does have the unfortunate downside of lack of soundproofing, which would only be a problem if you ended up with a dose of Bali belly. Showering under the stars never gets old. Here, there was the added benefit of watching the wildlife go by as you washed – little geckos often took up residence in the beam of the spotlights in the evening. When you're little, watching geckos prey is better than TV. Which brings me to – no TV. And what a godsend that was.
There was no air con in the villa, which I will admit gave me slight heart failure in the beginning, especially as I'm not always at my best in intense heat, but fans were enough most nights. There are one or two villas with air con available in one of the bedrooms, but you need to request them specifically.
My bedroom had a small garden at the far end of the room, which took a little getting used to as it too was completely open to the elements. I wasn't so much worried about lizards or small animals getting in, just spiders. Thankfully, my little gecko friends were around to keep the insect population in check. Mosquito nets enveloped each bed, and worked a treat – we had very few mossie bites between us by the end of the stay. There were one or two small holes, which could have easily been patched, but didn't pose a problem during our stay.
My only reservations was the pond in the corner, which although great to watch the frog spawn wriggling and dragonflies visiting, was still a worry with two little kids under five around. It meant I couldn't completely relax until they were in their room. And I was slightly horrified at the steep open staircase leading up to the room in the eaves – it was completely devoid of railings so I had visions (in true dramatic mother style) of one of the girls falling onto the speckled stone floor below, brains splashing everywhere. Thankfully, my kids are mostly obedient, so after describing in full multi-coloured gory detail what could happen if they fell from the top, we just made the scary stairs out-of-bounds for the entire stay. I'm not sure two boisterous, inherently danger-seeking boys would be as easily dissuaded though. The only physical barrier I managed to create was to fill two bowls with water and topped them with fallen flowers Bali-style, so every time the girls were tempted by the stairs their attention was stolen by the pretty flowers. They're easily distracted!
We quickly got used to the layout of the villa during our stay and although the lack of a table for the girls was a problem at first we found the step into their bedroom made a great makeshift table. Every day, when we needed to escape the sun, the girls would get their colouring books and pens out, spread them on the floor, sit on the step and play happily.
Checking out the wildlife soon became their favourite past-time, with frogs to examine, spawn to watch and beetles to rescue. Every evening we'd wait to see the geckos come out of their hiding spots and settle in to their nightly dining positions. In the corner of the roof was the biggest gecko I've ever seen – maybe about the size of my forearm – it was astonishingly big, and every evening I'd trying multiple variations on my camera to get a photograph, but failed miserably. I did get a photo of a few other creatures, though. Little frogs would make their way from the pond, along the wall and up the staircase to a place they knew flies were in abundance and wait for their meals to come to them.
My only freaky encounter was one night as I was sitting alone writing. I was penning about how fantastic it was to be so at one with nature without having to camp when I heard a loud rustle. Earlier that day Alannah was certain she'd seen something strange in the roof. I assured her it was just another lizard or a bird, but this sounded like something bigger.
I gathered my stuff, shuddered a little and got up to move away, just in time to see a lovely big rat scuttle along the ledge of the thatch in the roof only a metre or so away!
After doing the freak out dance – the one where you do a little jig while brushing off imaginary spiders – I decided it was time to turn in and hide under the mosquito net, which of course in my mind had superior rat repelling powers.
On the up, I read in the resort documentation that rat sightings happen sometimes, but they have five cats on the books to keep them under control. I admit, that wouldn't appease everyone, but as I said, it's still better than camping.
I managed to sleep soundly that night, and only jumped a little when my two little animals managed to get their paws under the mossie net. I allowed them in for a quick cuddle and tried to stretch out the evitable act of getting up with the sunrise.
Possibly the Best Pool in the World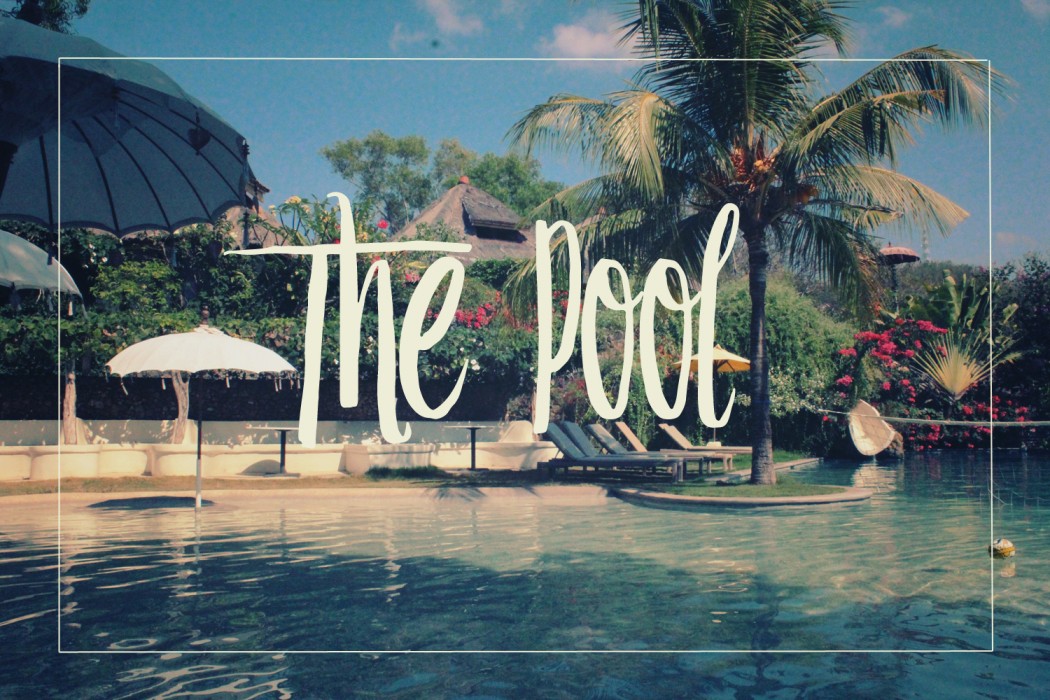 Ah, the pool. I don't know about you, but when I book accommodation the pool is a big deal. Before kids it had to be long enough to be able to swim laps, now with kids I have a lot on my pool wish list. It's got to be long enough for lap swimming, shallow enough for the little one to paddle and not freak out and fun enough for the bigger one to not moan about being bored after 3.2 seconds.
Bloo Lagoon has done well. Seriously well. The shallow end has embedded umbrella shades and slopes really gently towards the middle where it flattens out for a few metres before sloping deeper. The deep end has an area for swimming laps, a secret cave and a water slide. The only thing it was missing was a swim up bar!
During our stay there were very few other guests so on our first morning at the pool it was just us girls and a couple swimming laps. As I was without husband for the first four days (that's a whole other story), I'd trained Alannah to doggie paddle back to the ledge when she jumped in if I wasn't right beside her. Lottie was taking some coaxing to get into the water above her knees. The whole time I was flipping my head towards Alannah to make sure she was OK.
In milliseconds she disappeared. Heart in mouth, I grabbed Lottie and put her up on the side out of the water, constantly searching for Alannah in the deep end, shouting her name.
Then, a whoop broke my panic and Alannah flashed down the waterslide and into the deep end. She's tiny so went deep underwater. The people swimming laps beside her were looking slightly alarmed and started towards her. My body obviously remembered all those years of serious swimming and I whipped across the water like a flipping champion to grab her as she resurfaced.
Coughing and spluttering, she shrieked with excitement and declared, "Again, again!"
Nerves. Wrecked.
However, I may have set a new world record over 20 metres.
We spent hours in the pool each day, and each day we'd meet someone new. The girls struck up a friendship with two little Dutch girls, which reminded me of family holidays in Spain as a kid. You'd always become firm friends with another child from Sweden, Germany or Holland, only communicate through signs and yet understand each other implicitly. These holiday friendships are some of my favourite childhood memories, so it was exciting and heart-warming to see my eldest relish the experience. With the help of her little 7-year-old friend and her father, she learned to dive in two days, well, dive as well as a four-year-old can.
We found a frog spawning in the swimming pool and all the kids gathered around to watch it give birth there in the water. Alannah poked the spawn gently, studying it and the frog, asking questions about what happens next. Skinks would scuttle in the undergrowth beside the sun loungers and one morning we were treated to a troop of monkeys taking a short cut to the trees on the other side of the hill.
A Restaurant with a View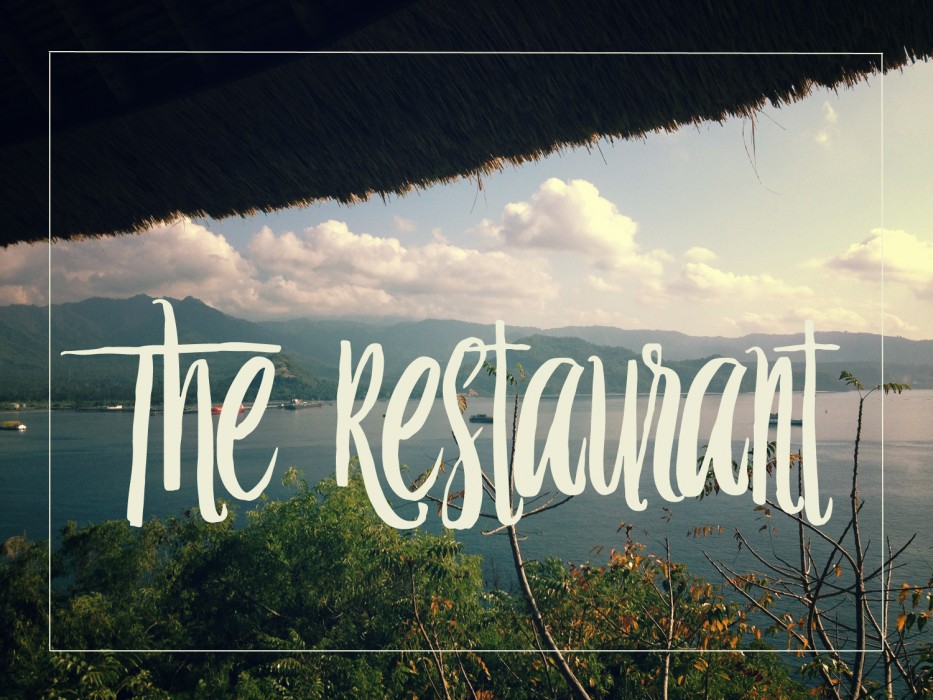 Completed not long before our visit, Helix 64 Restaurant & Bar is the onsite restaurant for the resort. Here they serve breakfast, lunch and dinner, and it's open to guests outside the resort, too.
Accessed by a spiral, steel ramp, the restaurant sits on the edge of the resort with 360 degree views of the surrounds. It's a pretty special place.
Breakfast is a buffet affair most mornings, serving Balinese and continental breakfast. You're also able to order bigger breakfasts from a menu.
We had lunch and dinner here a few days, and were impressed with the mix of Asian and Western dishes. Although I prefer to eat local dishes, having a few pasta choices was great when the kids tired of rice. The dishes are fresh and tasty, using local ingredients and lots of produce from the resort's kitchen garden.
Wine and spirits are available, but the local beer is good and cheap so we stuck to that when we felt the urge for a beverage. The fresh watermelon juice with mint was the real winner.
Evenings are quiet at Bloo Lagoon. You make your own entertainment or can get the free shuttle bus down to the village. Topi Inn at the bottom of the hill is a quirky little place with handcarved wooden tables and chairs and live music. The food is great here, if you're looking for a change from the Bloo Lagoon restaurant. There are a few other places to eat and drink along the waterfront, too.
*****
Since our return from Bali, the girls have been begging to back. The pool was a big hit, which I expected, but it was their openness to nature and ability to adapt to a completely different way of living that pleased me most. Alannah drew all the animals she'd seen in the resort and made a little book for Kinder detailing each one, and for a long time when we came home we had to have the patio doors open all day to replicate the free-flowing open space.
Bloo Lagoon Village is refreshingly different and undoubtedly hugely successful as an ecotourism project. They go to great lengths to work well with the local community and maintain a unique connection with nature. They make no apology for wildlife in the room – geckos on the wall, sometimes gecko poo on the bed, frogs in the living room and on the odd occasion a roaming rat. This unerring approach makes Bloo Lagoon a rare find on an island being devastated by shoddy development practices. Tony and Marita should be lauded for the attempts at providing an experience that works with the people and the island, not against it.
The only thing I would vie for in this grand ecotourism scheme is access to a private, fully-enclosed, sound-proofed bathroom!
Getting there
Padang Bai is around an hour's drive from Denpasar airport, depending on the time of day and traffic. It took us nearly two hours as we hit rush hour in the city and the ferry queue outside Padang Bai.
Getting around
The resort has a complimentary shuttle bus available 24/7 to ferry guests to and from the village. It is walkable, but is a steep ascent taking about 20 minutes to walk. Padang Bai is small enough to walk from one end to the other.
Visit Bloo Lagoon's website for more details and special travel offers.
A huge thank you to Scott, the owner of the villa we called home for our time in Bloo Lagoon. Thank you for sharing this amazing eco resort with us. We will be back!
All images © Linda McCormick/EcoTravellerGuide.com