Tucked away among the trees of Holaved forest in southern Sweden is a totally off-the-grid eco retreat designed to encourage residents to reconnect with nature.
Known simply as Urnatur, this small family-run complex has been offering visitors an experience that "stimulates all the senses" for the past twenty years.
If ever there was proof that the concept of ecotourism is not new, this is it.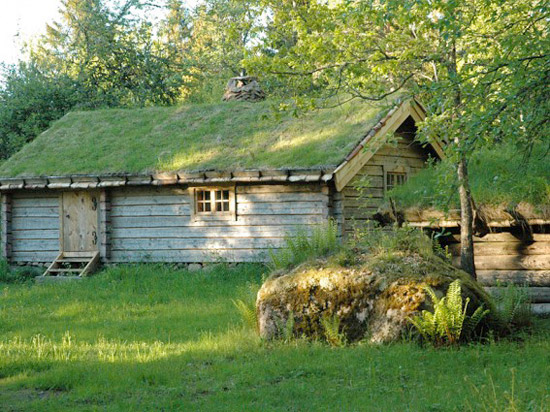 Hand-crafted wooden cabins with grass-covered rooves blend into the natural surroundings. An 'air castle' hides within the towering evergreen's spindly branches, accessed by an impressive hand-built spiral staircase, and a wonderful treehouse provides a whimsical treat for solo travellers. Interiors are the epitome of Swedish design, integrating elegance and simplicity, without impacting at all on the environment.
For owners Ulrika Krynitz and Håkan Strotz, their wish to live as one with nature has seen them develop their dream into a reality. Over the years, Urnatur has grown from a small sustainable farm to include the hotel and conference centre, as well as being an outlet for Ulrika's nature-inspired textiles and products, which decorate the rooms and lodge.
Meals are mostly made up of local and home-grown produce – berries, wild herbs and mushrooms are picked in the immediate surrounds and lamb comes from the owner's own flocks, making the journey from farm to table in a matter of moments.
Guests are encouraged to tap into their inner Bear Grylls by taking a class in foraging or basic fire and knife skills. Håkan, the owner, also offers tuition in working with timber for those keen to learn a few tricks of the trade from a master. You only need look at the Wood Hermitage for evidence of his remarkable carpentry skills – all the buildings, except for the main cabin, were built by hand using trees blown over during severe storms in 2005 and 2006.
If survival tactics are all too much to bear, there's always the chance to relax and unwind in the wood-fired sauna or outdoor wooden bathtub onsite, or take off by yourself and discover what lies beyond the hermitage's boundaries.
Be sure to explore the area in daylight as only old-school kerosene lamps are available to light the way when darkness falls. Then, when the sun finally sets, fire becomes the focal point of the night. Sit by the wood burner stoking the embers and enjoy the hypnotizing sounds of the surrounding forest.
Urnatur was recently awarded the coveted Grand Travel Awards Ecotourism Prize for 2012 for their efforts in active preservation of cultural heritage and measures to promote biological diversity. The awards are run jointly by the Ecotourism Society of Sweden and trade journal Travel News.
When to Go
The season runs from 1 April to 15 October. Bookings must be made in advance.
Getting There
Urnatur lies 7 km outside of Ödeshög. About three hours by car from Stockholm and Malmö; two hours from Göteborg. The closest train station is roughly three miles away at Mjölby and Tranås. Swebus stops at Östgötaporten in Ödeshög.
Have you ever stayed somewhere completely off-grid? Tell us about it…
Image Credits: Urnatur