Dubbed as the country's most primitive hotel, Kolarbyn Ecolodge in Sweden gives "roughing it" a whole new meaning. Set in the heart of a spruce forest, this tiny eco-retreat allows visitors to experience nature in its simplest form.
A dozen wooden teepee-shaped huts covered in mud and grass are tucked in between the tall, skinny evergreens. Only a small chimney sticks out of each of the moss and mushroom-covered green rooves. Inside each hut are two bunks covered in sheepskin, ready to accommodate sleeping bags, which are for hire should you land on this place quite by accident, or don't want to be laden down with your own while travelling.
Even the modern amenities of running water and electricity, which most people take for granted, are non-existent.
To keep guests warm, each hut has a central fireplace. However, don't expect a ready-made roaring fire crackling in the hearth on arrival – guests are required to chop their own firewood and even fetch their own drinking water.
It seems overtly radical, until you discover the history of this area.
Kolarbyn was used as a site for charcoal burning by locals for over 400 years. The workers built small rustic huts to shelter during the winter months. Several have been erected on this site over many generations.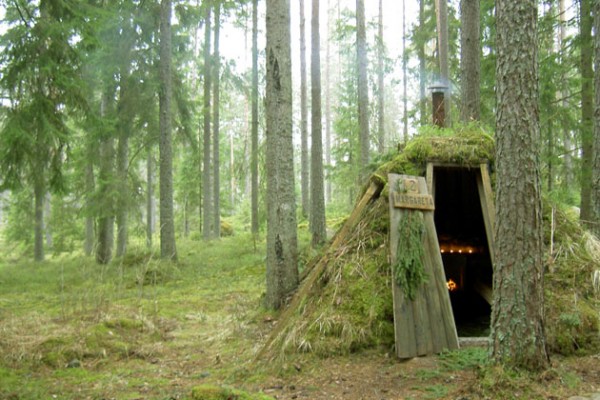 The current huts were built by local villagers from Skinnskatteberg, keen to recreate conditions for people interested in charcoal burning to practice their techniques in the traditional manner. Standing on the shore of Lake Skärsjön, the huts standing today are constructed in the same vernacular style as the original structures.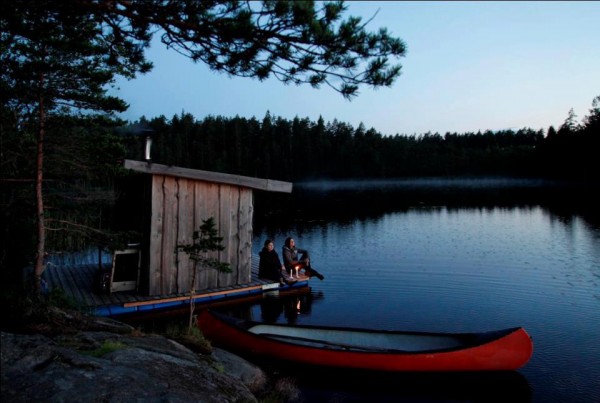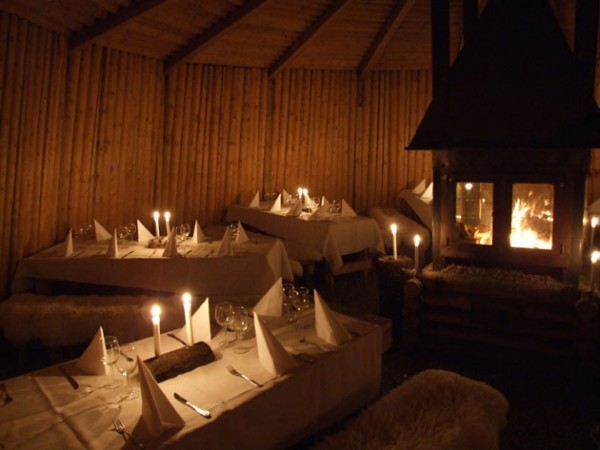 Dinner at Kolarbyn Ecolodge is a more sumptuous affair, with the lodge offering residents a few modern comforts, such as candles, silverware and wine glases. Linen-covered tables are arranged around a cozy fireplace in the communal dining hut, and although some meals come with certain packages booked, guests are also free to cook their own meals over the outdoor open fire. A small on-site storage shed serves as a pantry, which is free for guests to use. In it you will find basic groceries and ingredients to be able to assemble your own meals.
The best time to visit Kolarbyn is from April through September. During these months, the climate is warm enough to enjoy a range of outdoor activities: swimming or fishing in the nearby lake, going on a moose or beaver safari, berry picking, horse riding or a refreshing hike.
Winter isn't so conducive to doing anything but staying warm:

A portion of Kolarbyn Ecolodge's profits are directed to nature preservation efforts and other eco-friendly projects. There are also volunteer positions open to help run the lodge; applications are now being accepted for 2014.
Go on, the Bear Grylls inside you will love you for it!
Price: One night in a hut, including breakfast, costs $70 pp. Packages start at $260, which includes accommodation with breakfast and a tour. Other packages are available on the Wild Sweden website.
All images via Wild Sweden