Imagine you're rocking in a hammock, enjoying the heat of the sun on your skin. A gentle sea breeze tickles the hairs on your arms and the heat begins to prickle. You roll off the hammock onto the balcony perched over the ocean and descend your own private stairway into the ocean below. As you swim slowly and gently through the clear cool waters, all your worries are washed away with each stroke. You are at one with nature, thinking of nothing, totally relaxed.
This is what I dream of every time I think of holidaying in an overwater bungalow.
I'm sure everyone's dream is different, but regardless of how it's played out there's no doubt most travellers ponder what life could be like on an overwater bungalow – if even for a few days – once in a while.
Here are a few I've unearthed, which I hope you'll enjoy dreaming about.
Hugging the coast of Malohom Bay on Gaya Island, Gayana Eco Resort has the ecology of its surrounds at heart. Comprising 52 overwater bungalows, guests are treated to a luxurious experience in an amazing rainforest-meets-sea setting.
Relax on the balcony and enjoy views over to majestic Mount Kinabalu, take a dip in the ocean with your private access from the villa or visit the resorts onsite Marine Ecology Research Centre to learn about the work they are doing with the coral reefs and endangered giant clams.
Offering a choice of four different resorts throughout northern Palawan, El Nido provides beautiful overwater bungalows in a bio-diverse setting. Low-impact, nature-based activities are available to guests, as are environment education programmes for those wishing to discover more about the area.
El Nido's commitment to sustainability is evident in their comprehensive policies outlined on their website. They go above and beyond the call of duty to ensure the impact on the environment by the hotel and their guests is kept to a minimum, while ensuring links with local communities are strong. From comprehensive water and energy conservation to monitoring wildlife and being involved in local turtle conservation, El Nido demonstrates how luxury eco resorts can provide excellent service and an unforgettable experience without sacrificing too much.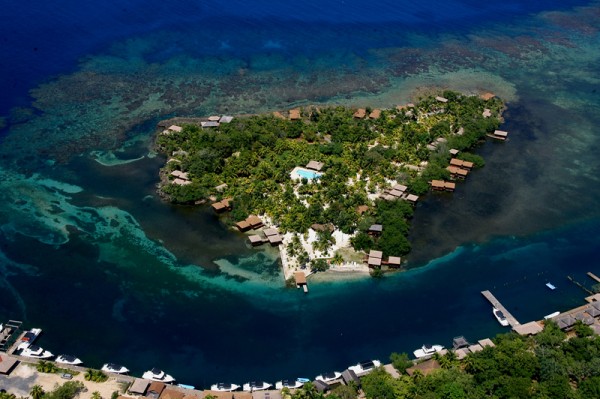 If you're looking for peaceful disconnection, Anthony's Key Resort is a charming, intimate retreat on the quiet island of Roatan off the coast of Honduras. Comfortable wooden bungalows perch over the clear waters of the Caribbean, while the main lodge of the resort is hidden behind ancient palms on the island nearby.
Popular with scuba divers, drawn by the year-round diving and calm, abundant waters, Anthony's Key Resort offers daily dive trips and a PADI dive centre with continuing education programme. Not far from the dive school is Roatan Museum and the Institute of Marine Sciences, where guests can quiz trained naturalists on the local marine life.
Probably one of the most well-known hotels from image alone, the Intercontinental on Bora Bora is the idyllic getaway for anyone wishing to while away a few days in the seclusion of an overwater bungalow. It is committed to sustainability, with excellent policies in place and promotes the values of ecotourism so future generations can enjoy this pristine South Pacific island.
The Intercontinental Bora Bora Resort & Thalasso Spa is also the first hotel in the world to use seawater air conditioning for all its cooling requirements. This pioneering concept is dedicated to Marlon Brando's ideologies, who – believe it or not – dreamed of a better energy future for French Polynesia and conceived many innovative ideas for his private island, Tetiaroa. The Intercontinental Bora Bora is also a member of EarthCheck, an international certification program for responsible tourism operators.
How well do you know your overwater bungalows?
Test Your Knowledge on Travel Associates' Overwater Bungalows Challenge
Travel Associates specialises in overwater bungalow stays and 5-Star luxury accommodation in the Maldives and throughout the South Pacific.