Just over nine years ago, the worst bush fires in Australia's history devastated the small town of Marysville, a scenic hideaway at the foothills of the Great Dividing Range, only 90 minutes from Melbourne. Since this terrible event, known as Black Saturday, Marysville has well and truly risen from the ashes. Determined residents have rebuilt the town and it's now bigger and better than ever. Tourism is once again booming and the environment is flourishing.
I visited Marysville recently with the family. We arrived when the sun was shining and even when it started pouring, we explored happily. It's a small town with lots to do in the area so is perfect for a short visit, or longer if you've got time aplenty.
Here we share why Marysville is the perfect green Yarra Valley getaway for families.
The Black Spur

If you do decide to head to Marysville, make sure to enjoy the drive there, and don't forget to look up! The Black Spur is a 30 km section of road between Healesville and Marysville that is lined with towering Mountain Ash (Eucalyptus rengans), which, thankfully, escaped the bush fires.
Standing 100 metres tall, these are the world's tallest flowering trees and are an impressive sight from below. Slow down, open the windows and enjoy the smells and sounds of the forest as you go.

Steavenson Falls

Reached via a beautiful scenic walk along the Tree Fern Gully trail, Steavenson Falls is one of the highest waterfalls in Victoria, at 84 metres high. You can walk from the town centre, which is about 3.5km and would be beautiful on a good day, but when we visited it was pouring so we drove to the carpark and took the shorter 700 metre trail up to the viewing area instead.
And while it sounds like that wouldn't take long it's surprising how much there is to look at when you've got two little people interested in everything! The ferns were rolling out, the cobwebs were heavy with rain drops and there were puddles to splash in.
Walking Trails and Hikes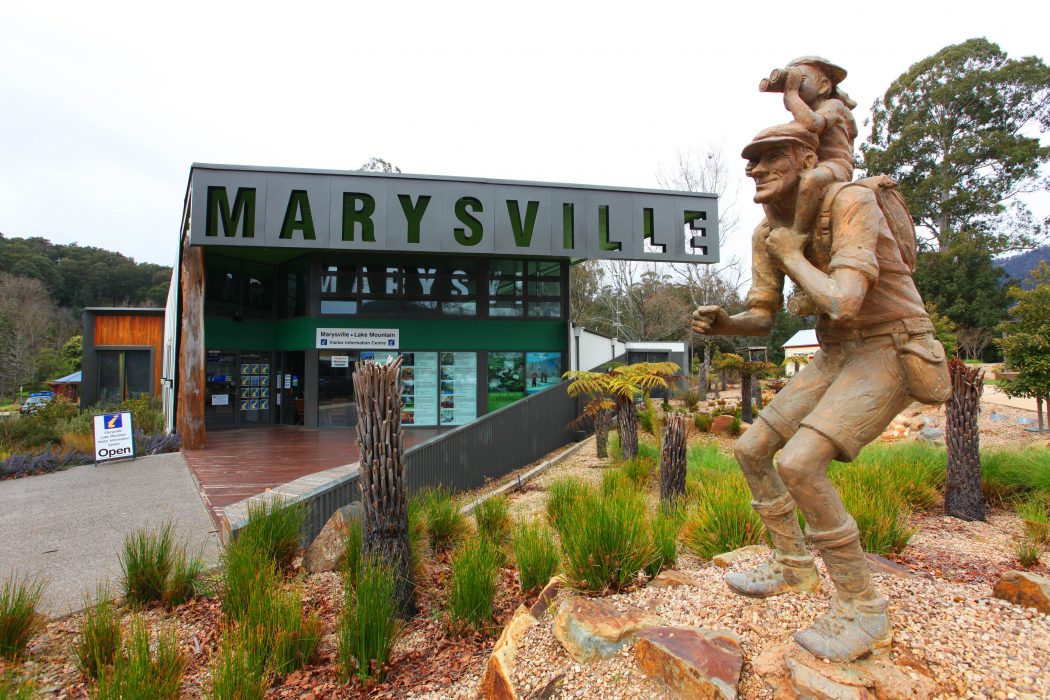 The whole region around Marysville is criss-crossed with nature walks, from easy, quick return walks to hardcore hikes. The trails wend through cool temperate rainforest, some with boardwalks placed over uneven land and precarious points. Information boards detailing the flora, fauna and history of the sites line the trails, and a few have tables dispersed along the way so you can take a picnic in a backpack and stop for a while.
Pop in to the Information Office in the town to find which trail suits your family best.
Lake Mountain

Marysville is the closest town to the alpine resort of Lake Mountain. It is open all-year-round. Head here to enjoy some great mountain biking trails starting at the summit which wind down through the forest. During the summer months a 240 metre flying fox is an absolute winner with the kids. If that's too adventurous, there's a wildflower trail through the grounds.
In winter Lake Mountain really comes alive. Being one of the closest snow fields to Melbourne, it's a busy place for a few months when the snow finally falls. Although not high enough to get snow falls for downhill skiing, Lake Mountain is perfect for cross-country skiing, snow shoeing and tobogganing. It's particularly popular with families on day trips from around Victoria.
Gallipoli Park

Following the bush fires of Black Saturday, Gallipoli Park underwent a $1.8million transformation, and what an amazing job they did. I'm pretty sure it was designed for big kids (aka adults) as well as little ones because we're still not sure who had more fun, us or them.
The flying foxes here are some the best we've ever come across. We know this because we tend to be slightly* competitive as a family. Two flying foxes, side-by-side are crying out for racing. We eventually gave them up when a crowd of kids started queuing.
Apart from the flying foxes that kept us there for a while, this state-of-the-art playground also has an elevated sand pit, slides, a very good old-style roundabout, and great swings – all personally tested. There's a great skate park and rope climbing frame, too.
The beautiful Reflective Garden, which commemorates those who died in the bush fires, is a tranquil place to sit and remember those lost. So too does the bronze sculpture of a little girl entitled "New Life" by local sculptor Bruno Torfs. The plaque reads "To honour the past & embrace the future."
There's honestly so much to do here at Gallipoli Park it's worth waiting for good weather, packing a picnic and staying for the day.
Bruno's Scultpure Garden
If you'd like to see more of Bruno Torfs works, head to Bruno's Sculpture Garden, which is dotted with his works throughout. The original garden and a lot of his life's work were destroyed in the 2009 bushfires, but Bruno has been working hard to rejuvenate the space and it is once again brimming with his wonderful wooden sculptures.
Old Lolly Shop

Oh, I do love an olde worlde sweet shop – or lolly shop, as it's known in Australia. We spent far too long in here and temptation is everywhere, which is particularly hard with two young'uns. But we were on holidays so just had to indulge. There were cola cubes, custard creams, lemon bon bons and more chocolate than Augustus Gloop could swallow. It's a great treat at the end of a trip.
Where to eat in Marysville
Fraga's Café on the main street is great for coffee, breakfast and lunch, and Marysville Country Bakery offers all the usual Aussie staples like sausage rolls, pies and vanilla slices. We had dinner at the Vibe Hotel, which to be honest was incredibly disappointing. We were left waiting for 30 mins before we got a drink and it took another 30 mins to get the kids meals, which when they came out were not what we ordered. It then took another 15 mins just to get pasta without sauce. It was a shame because after our swim we were hungry and really wanted to enjoy it. We're hoping it was just a blip and will try it again the next time we visit. The second night we headed a short drive out of town to the Black Spur Inn and had a great meal. It's always busy so be sure to book at weekends.
Where to stay in Marysville
There are only a few places to stay in and around Marysville. In the summer months, Marysville Holiday and Caravan Park is a big winner with families. As it was autumn when we visited, we opted for the warmth of Vibe Hotel, which is perfect for families. There is a gym, spa and sauna onsite, and it has an outdoor swimming pool, which despite the not brilliant weather we were coaxed into trying anyway. It was cold!
To discover more about Marysville and where to stay, head to Marysville Tourism.