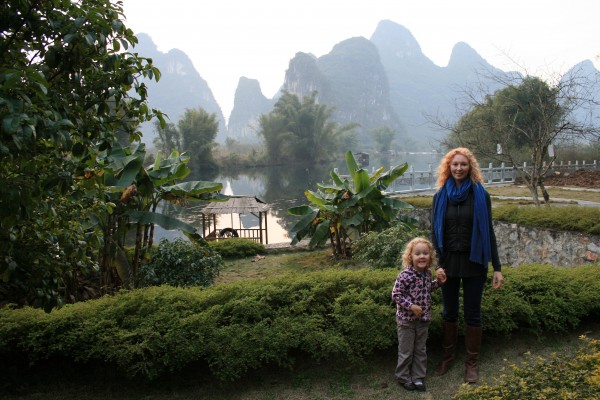 All images © Natasha von Geldern
Yes, China is the world's second largest emitter of greenhouse gases and the pollution in major cities is rising to hazardous levels. In fact, on the day I arrived people were being warned to stay indoors in Beijing. But last month I stayed at a real gem of an eco lodge – the Yangshuo Mountain Retreat – that just warmed my heart with its commitment to sustainability and responsible tourism.
While I was travelling in China I saw ample evidence of the government making concerted efforts to reduce the problems. There were solar panels on many buildings and I saw a lot of electric motorbikes and cars. Far more than I have ever seen in a so-called developed country.
The Yangshuo Mountain Retreat is run by American expat Chris Barclay, whose vision is to create a sustainable business model that helps preserve Yangshuo's natural beauty and promote its unique culture.
For a start – and referring of course to the Eco Traveller guidelines on green accommodation credentials – the Yangshuo Mountain Retreat generates energy from solar panels and has a natural, self-contained septic system with zero contamination of ground or river water.
The staff all come from local villages, creating employment opportunities and community involvement. In addition, five per cent of profits are donated to the China-US Medical Foundation.
And there is a strict 'no single use' policy, from toiletries to napkins, there are no disposable products. An attitude I'm sure we could all integrate more into our own daily lives.
But what is it really like to stay at the Yangshuo Mountain Retreat? In some ways I need go no further than the view from my bedroom window. I hope a picture is worth a thousand words because this scene of the Yulong River is too beautiful to describe:
The lodge itself is a restored old farmhouse, all rustic stonework, and decorated in a traditional Guangxi style. It feels like a real mountain lodge but with a high degree of comfort.
The restaurant is open all day and late into the evening with delicious Chinese food, including local delicacies such as beer fish. There is also western food available. I visited in the winter and after days spent cycling and rock climbing in the beautiful countryside I loved coming back to a mulled wine in front of the open fire, with the hotel cat curling around my legs.
In the morning the ladies who work there sit around the fire doing their needlework, heads bent as they make handicrafts to sell. They exude an atmosphere of peaceful industry as I sit in front of the fire and sip my (real) coffee.
Perhaps peace is the key word here. China is a busy place. It's not just the population, the whole country sometimes feels like one big construction site. Travel here can be gruelling because of the distances involved.
But here, on the Yulong River where no motorised traffic is allowed, and yet only a 15 minute drive from the bustling centre of Yangshou town, I felt like I had truly found the legendary beauty of southern China.
Disclosure: Natasha was a guest of the Yangshuo Mountain Retreat while travelling in China, but all opinions remain her own.