Image: Juan Carlos
Located in Aucallama, a small Peruvian district about an hour away from Lima, is the unique ecological artistic community Eco Truly Park. What was once a tract of unworkable, sandy land has been transformed into a community that has become an inspiring example of healthy, natural, yet simple, living.
All Images: Eco Yoga Villages
Drawing heavily from Indian ideals and lifestyle, the community believes in living in harmony with its surroundings. The cluster of quaint, vernacular mud houses that greet your eyes on entering Eco Truly Park are constructed from locally sourced materials like bamboo, mud, reclaimed wood, and recycled glass. Decorated with Indian motifs, these conical structures are a testament to what can be achieved when following a self-sustainable lifestyle. They seem to blend into their surroundings like they were meant to belong there – right between the Pacific Sea and huge sand dunes.
Since the entire community lives by the principles outlined by Hindu philosophy, the emphasis is on frugal living. The accommodation is rustic, beds are extremely practical, there are no ensuite bathrooms, and the water used for washing and showering is available at room temperature only.
There are plenty of activities to occupy the mind and keep it from craving the usual material comforts. Yoga, meditation or reiki lessons are available, or you can choose to learn new skills/update rusty ones in painting, vegetarian cooking, compost making, and dancing classes.

The food here is strictly vegetarian. Cooking is done using organic ingredients and most of the produce is grown in an adjoining garden. The menu is fairly simple and has many traditional Indian dishes. In an effort to perpetuate eco-conscious living, some meals are also cooked on a solar cooker. Alcohol is neither served nor allowed within the premises.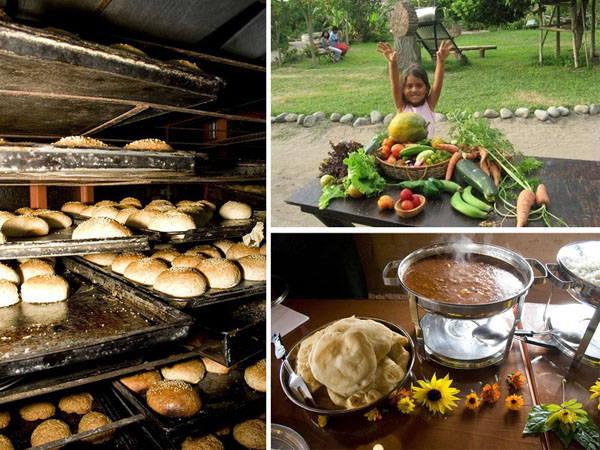 Since its inception nearly two decades ago, Eco Truly Park has attracted 75,000 visitors. Its incredible popularity has spearheaded similar initiatives in neighboring Ecuador, Colombia, Bolivia, and Chile.
If you're looking for a change of pace or have been indulging in a somewhat hedonistic lifestyle of late, maybe a mini break at EcoTruly Park is just what you need. For more information on vacations, the volunteer program and rates, check out the Eco Truly website.