While ecotourism has finally been accepted into mainstream travel (for the most part) it remains a novel concept to many, and is still so misunderstood.
Many people equate eco travel with roughing it in thatched roof accommodation where electricity is replaced with candle light and hot water baths are a rare luxury. Straw mattresses covered with hemp hand-woven sheets are the beds and simple fare cooked on an earthen stove is the only nourishment for the entire duration of your stay.
Charming and rustic, but far from the truth.
Ecotourism, as defined by the International Ecotourism Society, is "Responsible travel to natural areas that conserves the environment and improves the well being of local people." Now, more than ever, eco-minded travellers have a staggering range of options to choose from, many of which combine high-end luxury with a conscientious green soul by incorporating sustainable hospitality practices, waste management, and energy reduction.
So, for those times when you want to enjoy your creature comforts without feeling guilty of treading too heavily on the ecosystem, check out these 5 super luxury eco resorts to see how ingenious minds have blended the best of both worlds.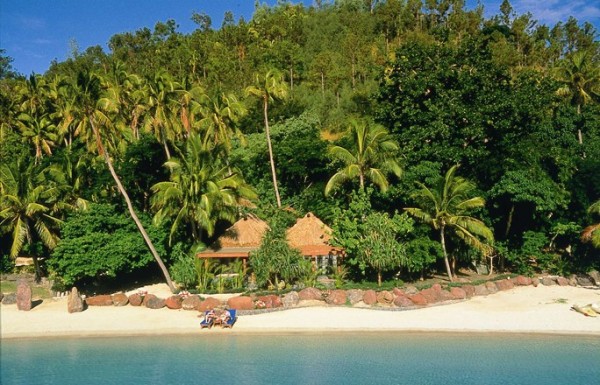 Richard Evanson, tired and burnt out with his existing lifestyle, escaped the Western civilization by taking shelter in the Fiji Islands. He went on to buy Nanuya Levu – an island that was just as much in need of tender loving care as he himself was. So, they decided to heal each other.
Giving it a new name of Turtle Island, Evanson began working on turning the 500 acre barren land into a veritable paradise. The locals got together and helped him plant 500,000 trees and today this erstwhile reject of nature has become a leading destination for eco-lovers and honeymooners.
Setting an example in sustainability, virtually everything on the Turtle Island has been sourced from land or sea. A 10-acre garden provides organic produce for the kitchen; furniture is handcrafted on the island, a man-made lake capable of holding 8-million gallons of water services the needs of the resort; and energy is produced with the help of solar panels. It's beautiful, it's stunning, and it's responsible living like never before.
If living in a treetop house has always been a fascinating, but hitherto unexplored fantasy, you wouldn't want to miss out on Ariau Amazon Towers in Brazil. Travel Channel has declared this place to be on its list of "A Thousand Places to see before you Die". One look at this place and you know why.
Built by Dr. Francisco Ritta Bernardino in 1987, the aim of this resort was to help preserve the fragile and threatened ecosystem of the magnificent rainforests of the Amazon. Built on stilts using Native Amazonian construction techniques, this place had just one tower and four suites to begin with.
Today, Ariau has seven towers and 288 suites that are connected by more than five miles of walkways snaking and intertwining through the forest, allowing for a more intimate nature-based experience.
Like Turtle Island, Tiamo also believes that small is, in fact, large. The accommodation here is limited to only ten cottages, but you can imagine how this wealth of privacy can magnify your holiday experience.
All cottages in Tiamo are built from pinewood and they are elevated on stilts to facilitate a natural cooling process. Thatch roofs insulate the living quarters and help regulate a pleasant room temperature, while the power needs of the resort are met with the help of solar panels. Most of the food served to guests is grown within the resort and served by a Michelin-trained chef. Anything that isn't grown onsite is sourced locally.
With the carbon footprint taken care of, its time to turn to luxury. The cottages are plush and luxurious enough to spend the entire day in, but when you do step out, there are activities like sailing, kayaking, snorkelling, diving, Catamaran sailing, and fishing.
Klein's Camp offers all the wonders of African wild life, with a twist. This intimate camp, with only ten cottages, is tucked away on the edge of Kuku Hills. To the north sprawls the Masai Mara National Park and on the West is the Serengeti. The location is unbeatable, giving a vantage view of the rolling grasslands, thick jungles, treacherous marshes, and gentle river banks in all their raw and untamed glory.
The terrain might be rugged on the outside, but inside you are greeted by massive fireplaces, delicate china, shining silver, rich furnishings, and fine linen. Sitting in the comfort of the private veranda you are allowed uncensored view of cheetahs, leopards, and lions stalking their prey or the march of the wildebeest during their annual migration.
In addition to the exhilarating drives that are conducted during the day, as well as the night, you can also participate in the interpretive bush walks. They take your interaction with the jungle to a whole new adventurous level as you are led by a skilled African guide and Maasai tracker into the dark belly of the jungle. It's just you and the elements of the nature. What's going to win?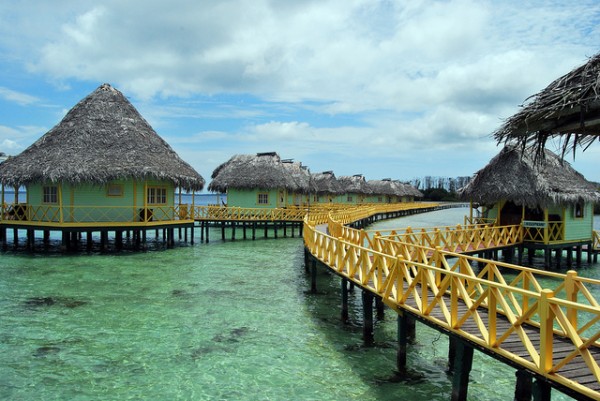 After having explored a tree-house resort, an island resort, and a jungle resort, let's make our way to an aqua lodge. Punta Caracol, from a distance, looks like it is floating on water. On closer inspection you discover the cabins in this resort are suspended on stilts and balanced by a wooden frame.
Only natural building materials have been used to construct these cabins and the roof is made from palm leaves. However, the guest quarters have every kind of luxury imaginable – hardwood floors, sofa beds, French windows, private verandas, and steps leading to the sea in case you feel like taking a dip any time of the day.
The setting is rustic and the lifestyle is eco-friendly. Solar panels for electricity, bio-digester to clean and filter waste water and gas cooling for freezers and refrigerators. The solar panels produce just enough power to run the fans and lights in each bungalow, so you can forget about watching a movie on your laptop. However, with a gorgeous sunset to feast your eyes on and the pristine beauty of the Caribbean at your disposal, who wants television anyway?
Have you stayed in a luxury eco resort? If so, where?