So far in this series, we've talked about why you should pack light, and tips for preparing to pack light.
But now let's talk about exactly how to get everything you need, whether for a two week vacation in climates as different as winter in northern Europe and winter in India or to travel the world with no home base for a year, into your tiny, light, eco-friendly bag.
Beside Sticking to Essentials, Organization is the Key
Though it took me years to realize it and I don't use any fancy gadgets, I pack in a modular system.
A lot of long term travelers use special packing cubes or vacuum packing bags, but I'm a little too cheap, lazy, and frequently on the go to bother with those accoutrements.
I have learned, however, that to cut down on packing and repacking time and make sure you don't leave anything behind, it's important to follow the age-old mother's wisdom: a place for everything and everything in its place.
To stay organized, I've found it very important to have only one layer of packed items.
Objectively, it seems like a personal preference. But that way, you don't have to shift too many other things to get what you need.
To achieve one-layer packing, I skip backpacks (with or without a frame, it doesn't make a difference – they're just big pits!) and use a hardcase rolling suitcase that zips open in the middle to lie flat and has a zip enclosure on one side to contain small, random items.
Almost All My Clothes in Half a 20-inch Suitcase
On the side of the bag with the handle and wheels, the casing for the handle sliders naturally divides the packing area into three long, thin areas. These are perfect for rolls of clothing and a pair of sneakers.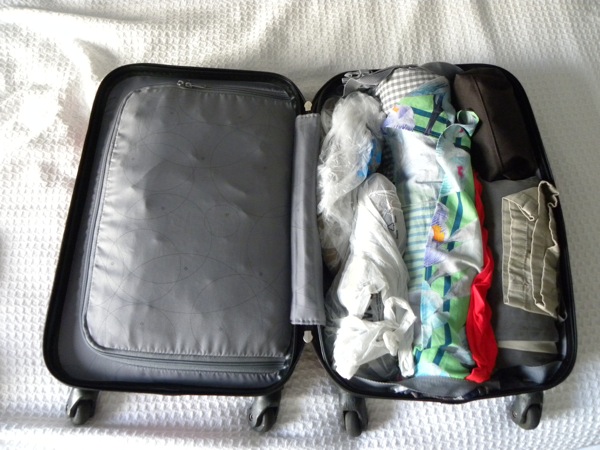 I've basically packed all of my clothes into one side of my bag. The center roll contains all of my tops and dresses. The smaller rolls to the right are a pair of jeans (though you should always wear your heaviest clothes on the plane) a roll of thinner bottoms – pajama pants, khakis, and skirts.
Rolling is the most important packing technique you can every learn. I swear. The volume of things in my husband's suitcase has diminished by two thirds since he mastered this.
There are a ton of guides online (anything by a flight attendant is usually great), so we won't walk through it here.
Make it Work, Baby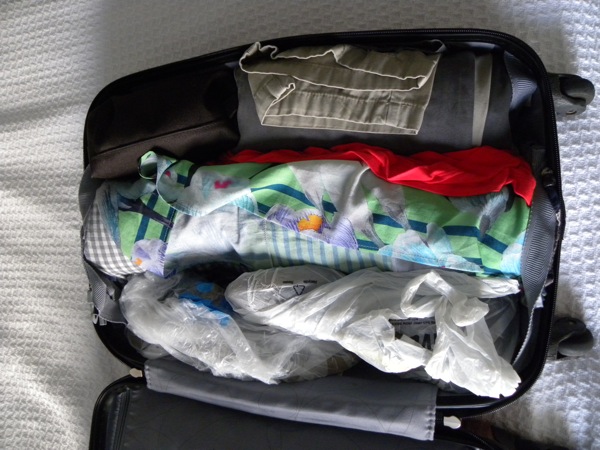 To the left of my roll, I've got my hiking/trail running shoes, stuffed with socks, a bathing suit, and some underwear, with the rest of those small, stuff able items packing in the little nooks around the shoes.
It's a symbiotic relationship. The small items keep the shoes from taking up too much space on their own, but the shoes also contain small items so you can stuff them and keep them from taking up more space than necessary.
As you'll notice not only with shoes, but with everything I pack, items have to serve multiple purposes. I specifically got trendy, colored trail running shoes that can double as street sneakers in Europe for going out to a casual bar or just walking around.
My other shoes that I usually travel with (left) are good for pretty much every situation above 60 degrees Fahrenheit (15.5 Celcius).
They're waterproof, extremely comfortable to walk (and even low-key hike) in, and well ventilated enough that I can wear them in 95 degrees and humidity in the summer and not faint. Best of all, they're smart enough looking that I can wear them to conferences, nice restaurants, or clubs if needed.
What About Everything Else?
Despite my tiny bag, I always feel like I pack an inordinate amount of stuff.
Since I often find myself traveling for weeks or months out of one suitcase in a wide variety of climates and situations, I know that I'll need certain specific items to be comfortable or to get my work done, like:
protein bars in case I have a flight that gets in late and it's hard to find food
thank you cards and small gifts for hosts
business cards
a portable hard drive to dump my photos on to and keep copies of both my home and laptop files on
a bag of tortellini in case I need a quick dinner while staying in an apartment
a photo camera, video camera, two cellphones, an iPad, and a laptop, and all the associated chargers (I know it's a lot, but they all have specific uses!)
an umbrella
a couple extra notebooks either with old notes I need for an article I'm writing or to fill with notes from the current trip
When I don't have a lot of time and don't have to worry about how many bags I have (like train or bus travel in between flights), I'll dump a lot of this "random" stuff in my purse or extra tote bag.
But when you are taking one of those pesky one-8kg-bag-only regional European airlines (though I do love EasyJet and fly them constantly) or generally just want to look and feel like a sleek organized traveler, you've got to modularize even your "random" stuff.
Don't Sweat the Small Stuff
All my "random" things, from my toiletries to my laptop even to my folded up purse, really fit in the other side of my bag.
All my electronics/cords have to fit into one ziplock.
So do all of my wet toiletries.
All of my dry toiletries, jewelry and make-up fit into a little overnight bag I got from Gulf Air once when I was marooned overnight in Bahrain. (It seems impossible to many women I know, even avid travelers, to put all these things in such a small space, but like everything about packing, it's about thinking about what your really need without making yourself feel deprived.) I've actually got all this and more crammed in that little bag:
contact case
five chunky necklaces
foundation, eye-liner, mascara, eye-shadow, lip liner, etc.
two extra set of contacts
7-day pill kit with a mini-medicine cabinet
20-odd floss piks
deodorant
razor and extra blades
50-odd q-tips
sewing kit
band-aids
15-odd pairs of earrings
I fit the charging equipment for my camera along with my little Flip video camera in the pockets of the camera bag (which I sometimes leave at home if I'm in a real pinch for space), and put the other random small things – business cards, throat drops, tissues packs, protein bars, in one final ziplock.
Then, like an easy puzzle for a three year old, all the little blocks go in together as seen above. My laptop can sit on top, cushioned by a sweater.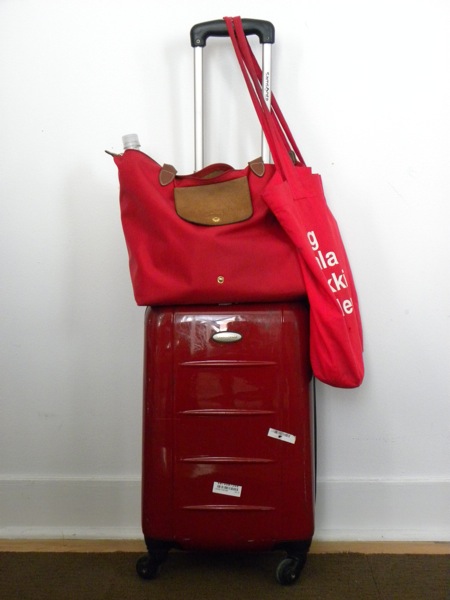 As my "purse" or shoulder bag, I always use something that folds up small, so I can put everything into my rolling bag when needed.
Since I'm in a red phase right now, I usually have this folding Longchamp bag as a day bag and this tote bag for when I don't need to carry around so much stuff or for shopping.
The Longchamp bag is great to travel with because it's totally waterproof and you can fill it with a really shocking amount of stuff (in the summer I use this instead of a suitcase). Better still, it zips even when quite full, unlike a tote.
What's in your bag?
Other articles in the How to Pack Lightly series:
1. How to Pack Light Part I: Why Should You Pack Light?
2. How to Pack Light Part II: My 3 Best Packing Tips