Vacations are meant to be getaways – escapes from everyday life that leave you feeling relaxed and rested. The memories you make give you something to look forward to when responsibilities of the remainder of the year start to get you down. Some travelers find rejuvenation by losing themselves in the beauty of the untouched natural spaces. Others find peace on 100-count sheets, and being waited on hand and foot.
Whatever your pleasure, you're sure to find the perfect spot for your next retreat on our list of the world's top eco resorts.
1. The Colony Hotel, Maine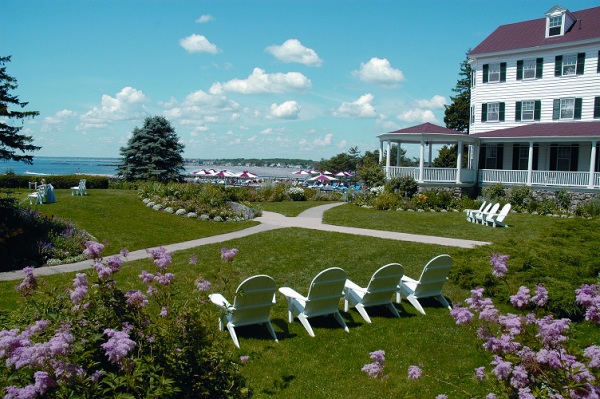 Image: Maine Office of Tourism
Manicured lawns lined with white adirondack chairs and peppered with mounds of native wildflowers set the tone for seaside elegance in this largely undercover eco resort. While the Colony Hotel does its best to get the word out about their green practices, the property is still better known for having a long, vibrant history as a first-class New England resort. Overlooking both the Kennebunk River and the Atlantic Ocean, the views and sea-salted breezes create the perfect setting for washing your cares away.
In addition, at The Colony Hotel – as tame as it seems – there is plenty to do. A private surf beach and heated saltwater pool provide opportunity for swimming and sunning. With a short trip to Kennebunkport, guests can go sailing, shopping, biking, or sea kayaking. There's also tennis, golf, art tours and fine dining in the small village. Guests will be so busy kicking back and relaxing, they might not stop to wonder why The Colony Hotel was named the first US Backyard Wildlife Habitat or green hotel property in the state.

Image: The Colony Hotel
Things begin and end with the hotel's comprehensive Environmental Responsibility Program. Everything from the non-toxic chemicals used in housekeeping to the local seafood served onsight supports a system that uses less energy, creates less waste, and reinvests in the community. These aren't bandwagon efforts used to tout the green label. Kitchen waste products are composted, recycled or turned into birdfeed. Worn out sheets are upcycled into aprons for housekeeping and kitchen staff. They also have a naturalist program available in July and August, and run an ecology scavenger hunt through both the Gift Shop and Front Desk.
2. Belcampo Belize, Belize

Image: Belcampo Belize
Buried amidst a 15,000 acrew rainforest preserve, Belcampo Belize offers guests a surprising glimpse at Amazon wildlife as well as one of the world's most important marine environments. The Sapodilla Cayes Marine Reserve along the Belize Barrier Reef is host to a wide variety of coral and fish species, along with rare species not found anywhere else in the world. The resort is also home to a 3000-acre farm and agritourism center where guests can explore sustainable farming of the areas choices specialties.
Those interested in diving or SCUBA excursions will find PADI certified instructors onsite to assist guests of any skill level. Explore the reef or rendevouz with white sharks, and other migrating wildlife from March through June. Head into the unspoiled expanses, watch monkeys and other mammals in their natural habitats, test your fresh or saltwater fishing skills with a qualified guide, or look for one of hundreds of types of birds that call the reserve home.
On the organic farm, guests can visit with local farmers growing cacao, sugar cane, coffee and other tropical specialties. Get first-hand training in the production of chocolate, coffee and run. Tour the restaurant and farm, take a class or spend a few hours at the agritourism center set to open in 2012.
3. Al Maha Desert Resort & Spa, Dubai
Image: Al Maha
Live as the Bedouins do … with all the extra pleasures of an elegant first-class resort and spa. This desert retreat offers guests private suites brimming with contemporary furnishings, modern amenities and Arabian works of art. Private, heated pools, super king-size beds and a spacious bathroom settle guests in the lap of luxury.
Al Maha really is an oasis nestled in a sea of sand. Created in 1999, they institituted a large-scale habitat rehabilitation program. Landscaping consists of over 6000 native plants, while their efforts to re-establish free-roaming populations of indigenous wildlife, like the endangered Oryx. Al Maha rests at the heart of the Dubai Desert Conservation Reserve, and has become one of few protected areas for Arabian wildlife. Guests get glimpses at creatures rarely seen anywhere else.

Image: Al Maha
Desert safaris, wildlife drives and guided walking tours of the reserve top the list of eco-activities found at the result. The breathtaking landscape is perfect for photographers and nature-lovers alike. Guests will also enjoy more adventurous fare found in Arabian horseback riding, camel trekking, falconry, archery and more.
4. The Canopy Tower Family, Panama
Image: Canopy Tower
Renown the world over as a top birdwatching resort, The Canopy Tower also provides guests access to one of the world's most abundant marine environments. Located in Soberania National Park, and near to the Belizean Barrier Reefs Sopilla Cayes, visitors get the best of rainforest and ocean excursions.
Dive down with the help of certified SCUBA instructors to see the beauty of the coral reef. See a variety of aquatic life not accessible anywhere else. Fresh and saltwater fishing opportunities abound, as well as kayaking and boat tours. Shark swimming and other scheduled activities are available during certain times of the year.
Image: Canopy Tower
Head to the Canopy Adventure for a day of zip-lining atop the trees, venture past waterfalls and (inactive) volcanoes and see rainforest mammals up-close and personal. Go for a hike to a natural pool, or take a drive to nearby Panama City packed with museums, shops and nightlife. Return to one of three Canopy Tower properties at night for bountiful, breathtaking views and the relaxing sounds of nature.
5. The Boat Landing Guest House and Lodge, Laos
Image: Mekong Responsible Tourism
Located in the Luang Namtha Province, The Boat Landing prides itself on sharing the rich heritage of the surrounding villages with their guests. Cultural trips to nearby settlements of various ethnic people offers a glimpse of traditional life in Laos. Communities band together to provide demonstrations in arts, music and craftmaking. The resort works hard to carry over their financial benefits to area farmers and craftspeople.
The eco resort is also near the Nam Ha Protected Area, offering guests the chance to see first-hand many of the key species important to conservation today. Partnering with adventure company, Green Discovery, resort guests can go trekking, fishing, boating or rock climbing through the surrounding tropical forests. The range of wildlife in Nam Ha covers plains, evergreen and semi-evergreen, and montane evergreen forest, uploand broadleaf woodlands, and natural streams and rivers.
Rare and significant bird populations such as the Silver Pheasant and Green-tailed Sunbird can be found among the nearly 300 native species living in Luang Namtha. The tiger, leopard and clouded leopard, gaur, muntjac and Asian elephants can be seen in the natural habitats. The Boat Landing is a veritable paradise for ecological and cultural exploration, and supports that mission with a fully sustainable operation.
Image: The Boat Landing Guest House
Everything used in the resort is locally-sourced, from the materials used in building the bungalows to the ingredients served at the award-winning restaurant on-site. Waste is recycled, or converted to fertilizer, and purchases are made with low-impact in mind. Their environmental policy ensures proper training of staff, and appropriate guidelines for guests, to support the Boat Landing's overall purpose of protecting nature and community while also making the most of it.
Somewhere between nature and nurture is the sweet spot of the sustainable, earth-friendly vacation. What that means for one traveler or family may differ considerably from someone else's. What constitutes luxury – or for that matter, relaxation – is up to personal interpretation. The fact remains that a wide variety of eco resorts can truly meet these needs while supporting local communities, and minimizing their impact on the environment.
Which one would get your vote? Do you have a favorite luxury eco resort? If so, share it with us in the comments below