The seaside haven of Noosa, on Queensland's Sunshine Coast, lies two hours north of Brisbane. It is has been a popular holiday destination since the 1800s, and continues to be a firm favourite with adventurers, retirees, backpackers and families, many of whom return time and time again.
Noosa is a small, relatively quiet township with National Parks and Reserves lining its boundaries and a river running through it, fed by the lakes of the Great Sandy National Park. The shoreline sweeps in a great arc from Noosa National Park on the headland right around to the tip of Fraser Island. The almost-perfect main beach draws surfers, sunbathers and people watchers to its beautifully clear waters and fine golden sand, and in behind the strip of hotels and restaurants along the beachfront you'll find great shopping on Hastings Street.
On the surface, Noosa seems like any other seaside town, but there is so much more to this captivating region than sun, sea and sand. Conservation and sustainable tourism ideals are ingrained in the community and business life. Action groups ensure development is restricted, wildlife is cared for and management programmes are in place to help protect this wonderfully diverse environment. Added to that some seriously good places to eat and you can see why people keep coming back for more.
Here are a few more reasons why we think you should visit Noosa.

The Noosa River
On first sight, the clarity of the Noosa River is hard to believe, especially when you're used to looking at the Yarra River in Melbourne, which is only ever all kinds of brown. Wadding into the water is like entering a tepid bath, with fish. And there are lots of them. On my early morning escapades I spotted reef fish nibbling at the rocks lining the banks. The presence of a large pelican population only serves to prove the abundance of marine life in its waters.
Along the length of the river is a narrow stretch of sand; just enough for kids to make sandcastles and adults to stretch out on and relax (with one eye open, if you're with children). A hop-on-hop-off ferry runs daily, stopping at various pick up points on the river, so it's easy to explore, or you can hire a BBQ boat and relax on the water at your leisure.
The Food
Considering the size of Noosa they have a veritable smorgasbord of restaurants to choose from when it comes to dining out, and even the top-end establishments are surprisingly child-friendly. We dined at Ricky's Bar and Restaurant in Noosa Heads and had a wonderful experience, with great tips from the waiter and sommelier on our choices of food and wine. Having a children's entertainer on Sundays is an additional stroke of genius for parents wanting a little time out. Gaston on Hastings Street is busy, but offers excellent food at reasonable prices, and Noosa Boathouse on Gympie Terrace is the perfect place for a light lunch or sundowners overlooking the water.
If you're looking for something a little different, head to Halse Lodge perched on the hill behind Noosa beach. This fully restored 1880's listed building has been operating as a seaside guesthouse since the late 19th century. It is now a YHA backpackers, but has a wonderful outdoor restaurant open to the public, replete with fairy lights and ocean views.
The Everglades
I'll let you into a little secret – I've always wanted to explore the Florida Everglades. I think I've read one too many Carl Hiaasen books and had a fictionalized version in my head of what they're like. Now, after venturing through the serene waterways of the Noosa Everglades I think my thirst for twisted mangroves and creatures lurking in murky waters has been sated.
This magnificent network of waterways is part of the Great Sandy National Park, which stretches up to Fraser Island – the largest sand island in the world. The Cooloola section of the National Park covers 56,600 hectares and is home to an astonishing 44 percent of Australia's bird life. We were lucky to spot a sea eagle on the hunt among the pelicans, heron and cormorants.
Active travellers can choose to canoe through the Everglades, which I would have done had the kids not been with us, but I'm glad they were – their unabashed delight of the speedboat ride, taking a dip in the river and trailing goannas made the day all the more enjoyable.
The National Park
With 4,000 hectares to explore, Noosa National Park is ideal for walking, hiking and koala spotting. Here you'll find rainforests alongside tall eucalyptus trees, rare swamp orchids and ringtail possums, and be able to surf and swim in secluded coves and beaches along the rugged coastline.
Only fifty years ago, authorities were keen to build a road along the length of the coast of Noosa National Park, effectively making it landlocked. This would have impacted massively on this wonderful natural habitat, but thankfully, conservationists and proud residents worked hard to save the headland from development and it is now the most visited National Park in Australia.
The Weather
Living in Melbourne, which is renowned for its crazy weather, I often crave a more temperate climate. Noosa in November – when we stayed – turns out to be pretty perfect, especially if you're travelling with little children. It is warm during the day, but not too hot, and the breeze at night is welcoming. The sun shines nearly all year round, though Noosaites tell me it can get down to a 'chilly' 20 degrees centigrade in the winter months! Don't worry about packing your winter woollies if you do go.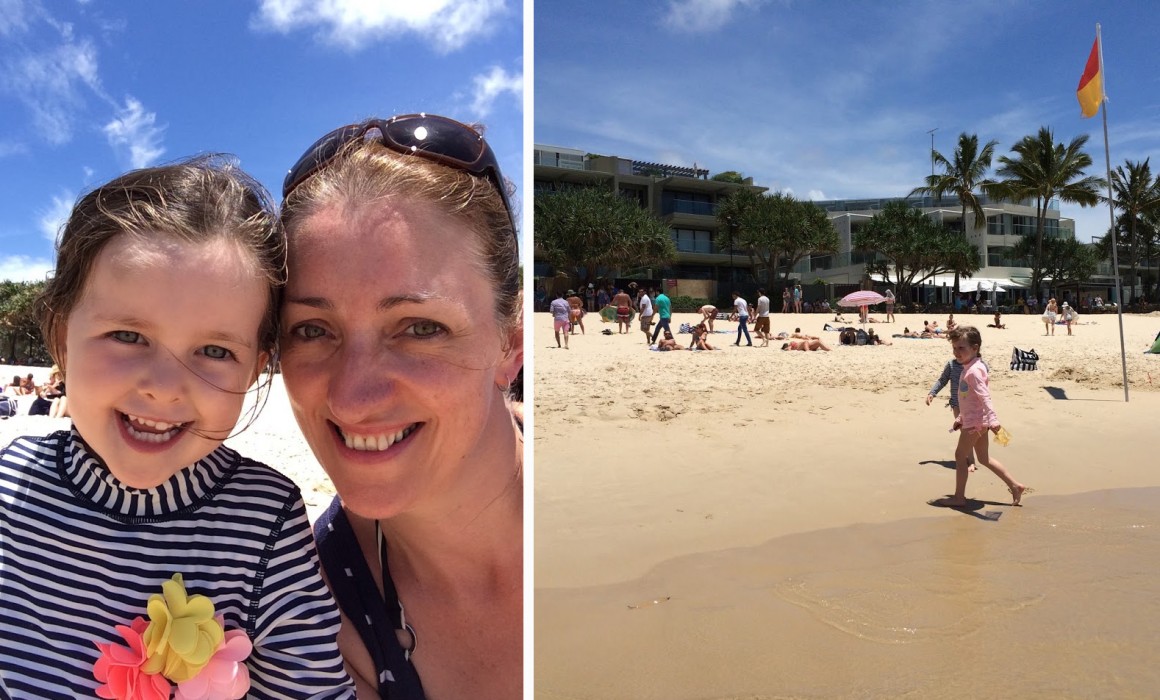 The Beaches
Oh the water! Imagine being used to chilly Irish waters, then when you move to Melbourne, Australia, only to discover colder waters (Antarctica is our neighbour), then you visit Queensland and a whole new beach world is revealed. Fine sandy beaches, warm water – seriously warm water, surfing, swimming and sunshine on a daily basis. Remind me again why I'm not living in Noosa?
Proximity to Fraser Island
It would be a crying shame to go all the way to Noosa and not make the trip to nearby Fraser Island. Part of the Great Sandy National Park, Fraser Island is the world's largest sand island. Here, you can experience the thrill of driving along a sand highway, trek through ancient rainforests, see dingoes in the wild and watch whales frolic off the coast. If time is short, the best way to see the island is on a guided day trip, though there are places to stay on the island, including hotels, apartments and camp grounds, if you want a more intimate experience of this amazing part of the world.
Head over to the Visit Noosa website for more information and holiday ideas. They have an 'Eco Check Members' directory, which lists partners dedicated to sustainable tourism in the area.
If you liked this article, you may also be interested in these posts:
~ Silhouette by the Noosa River
~ A Mini Guide to Fraser Island
*With thanks to Visit Noosa, Kingfisher Bay Resort, The Discovery Group and Fraser Explorer Tours for their help in arranging our trip.