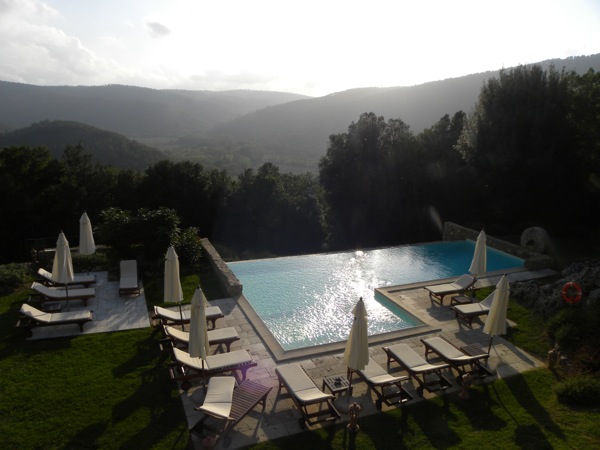 Villa Pipistrelli at Montestligiano © Gabi Logan
Italian agriturismos are gorgeous, relaxing, and one of the best ways to experience home-cooked Italian food made from just-picked ingredients. They're also legally bound to use local ingredients and promote local culture to their guests.
I don't know about you, but I wish I could visit them all!
There are an estimated 20,000 agriturismos in Italy, and Federica and Gabriele over at Agriturismo Life are on a mission to find the best of the bunch by visiting them all one at a time (it might take more than one lifetime though). And while I feel so poor – experientially – in comparison, I understand the obsession.
Once you visit an agriturismo and feel like an Italian family has taken you in and made you a part of their lives, even for just a few days, it's pretty addictive.
From north to south, these are some of the most stunning, enjoyable, and hospitable agriturismos that I've had the pleasure of visiting (or coveting a visit to) over the years:
Part of a five-plot olive, basil, and vegetable farm scattered throughout the Ligurian alps (you know, though gorgeous cliffs that the Cinque Terre practically fall off of), the Azienda Agricola San Martino offers dramatic sea views from every room, path, and grove.
The Dalpiaz family's produce is an intrinsic part of everything they produce – from olive oil, ravioli, and pesto to pain balm and skin cream – and consume, as dinner is usually arranged around what looks good in the garden that evening or gems foraged in early spring, like wild asparagus or delicate borage flowers. Though it looks like they may not be accepting new guests, I heartily recommend emailing if you'll be in the area.
Owned by the Donati family, which traces it's lineage back to Dante's wife, Montestigliano is an entire hamlet (small farm-centric village). In the late 20th century, the family transformed the hamlet buildings into villas for rent, many decorated with outstanding taste by the wife of the head farmer, Massimo, who runs an interior design business.
The deliciously eccentric noble family and their devote British-Italian concierge, Francesco, are the highlights of the experience. Though the views don't hurt. (That's the view from their extra-lux villa, Pipistrelli, at the top of the post.)
Author of the stunning, recipe-filled La Tavola Marche blog and columns in Italia! and Taste of Italy, owner Ashley Bartner and her husband Chef Jon know more than a thing or two about food.
They share their knowledge with guests at their five apartment inn, not only through meals but also guided foraging walks and cooking classes with Jason, a chef who has studied under greats like Jacques Pepin as well as more local masters, such as his food-obsessed friends at the local market.
When you arrive at the Mulino after a drive through the hills or Le Marche, you may think you have arrived on a set from The Hobbit. There is something that seems too quaint and pastoral to be true about it. But that has much to do with the owner and chef, Anna, whose passion for edible flowers has made both the interior and exterior of the old stone mill (mulino) a floral display easy to mistake for a world-renowned botanical garden.
Thankfully, Anna, her food, and her hospitality are still largely a secret. So even when you feast on course after course of homemade pasta, homegrown vegetables, and locally foraged flowers, the meal (with wine) won't cost much more than $30. Even less ($20) if you choose to sleep off in one of the Mulino's four double, en-suite guests rooms.
From the Tribewanted family, who has previously partnered with a Fijian tribe and a Sierra Leone fishing village to create sustainable tourism communities that have been documented in a novel and a film by the BBC, this brand new agriturismo is set to become one of the most popular in Italy. Monestevole, like Montestigliano above, is an old farm hamlet, and as part of the Tribewanted Model, it actually hosts a sustainable community year-round supported by donations from other "tribe members." What does this mean for guests? Forget hiring a guide.
You've got Marisella, the excursion manager, Angelo, the astronomically-obsessed carpenter, and expert boar hunter and forager Allegro to point you towards the area's best activities. Monestevole officially opened on March 21 and then sold out for the Easter holiday weekend a week later! I highly recommend stopping in while there's still space.