Why are we so fascinated with treehouses? Structurally it defies odds balanced between sprawling branches, nestled amongst the birds. Artistically, it challenges how we define space – they're whimsical and unique looking. For whatever the reason, we're drawn to treehouses no matter if we grew up in the city, country or suburbs.
The closest I came to having a treehouse as a child was using old bed sheets with duct tape taped to the dining room chairs.
Still, I love them.
Whether it's a simple backyard clubhouse made from a few planks and a rope ladder, or a destination to explore on a family vacation, one thing is for sure – they're cool to explore.
Treehouses tap into our inner child speaking to the explorer, naturalist and dreamer within all of us.
If you're looking for a treehouse adventure, without having to stay over, these wonderful treehouse experiences might be right up your street… or tree.
Photo Credit: Christine Westerback
Looking for more treehouse romance and intrigue? Alnwick Garden in Northumberland, United Kingdom is a fairytale in the making. With a rose garden, cherry orchard and Grand Cascade water fountain, it's as if you stepped into a historical romance novel.
As for the intrigue, check out the their Poison Garden with its exotic, deadly flowers. No joke, gardeners must wear gloves at all times when working with the poppies, belladonna, foxgloves and other potentially harmful blooms. Guests cannot touch any of the plants, which are caged but easily seen.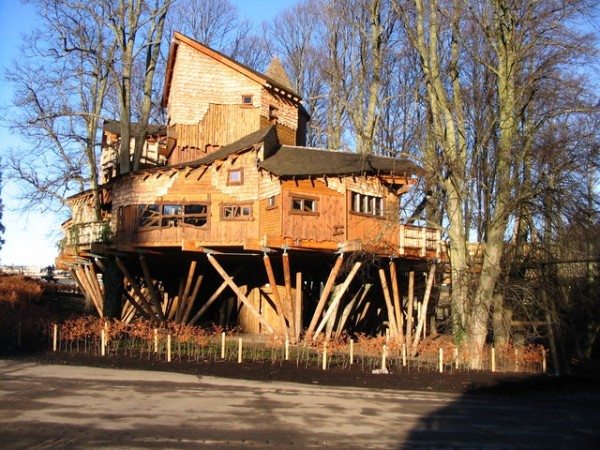 Photo Credit: Dave Pickersgill
For a more lighthearted romp, navigate the rope bridges, suspension bridges and walkways – all leading to the cedar shingled Treehouse. Created with Scandinavian redwood, English and Scots pine and Canadian cedar, The Treehouse has curious, curvy roofs that draw visitors worldwide.
It's a 6,000 square foot structure, built in 2004 by Robert McAlpine, designed by the Napper Architects. With balconies, verandas and cottage-like structures, it reminds me of a crooked dollhouse, but on a larger scale.
Lunch and dinner are served at The Treehouse Restaurant. To add to its charm, in the center of the restaurant sits an open fire, surrounded by white lights and trees coming up through the floorboards. The food is locally grown and fresh, often accompanied by live entertainment. Or stop by the adorable Potting Shed for a drink or light meal.
Photo Courtesy of: © Cambridge2000.com
Nestled among tulip poplar trees with hand carved dragons, the enchanting Canopy Cathedral treehouse in Longwood Gardens is a must see. Visit Longwood Gardens in Kennett Square, Pennsylvania and it'll feel like you stepped onto a botanical movie set.
Longwood is a public garden located on 1,077 acres with 20 indoor and 20 outdoor gardens amidst water fountains and a 4-acre glass conservatory. They host artists, musicians, fireworks and holiday exhibits with thousands of stunning red and white poinsettias.
Back in 1907, Pierre duPont bought Longwood, a working farm and aboretum. As he built his corporate empire, he used his fortune to develop lush acres of gardens. His generous nature has touched millions because when he died in 1946 the trust he set up took over and opened Longwood to the public.
Fast forward to today. Longwood is open 365 days a year, even on Christmas day. The temporary treehouses were so popular, they've now taken up permanent residence.
Make sure you explore all three: The Canopy Cathedral, the Lookout Loft and The Birdhouse. The treehouses stand alone on steel supports with a pin foundation which protects their roots to avoid damaging the trees.
The majestic Canopy Cathedral is the most unique treehouse out of the three. It is a replica of a Norwegian Church with church pews. Inside, the double stairwell allows visitors a great view of the Italian Water Garden.
Photos Courtesy of: © Cambridge2000.com
The Lookout Loft is a more rustic, simpler structure than the Cathedral with only one floor, yet very pretty. Designed and built by Bill Allen of Forever Young Treehouses (now known as The Treehouse Guys) from Warren, Vermont, it's similar to an Adirondack themed home. Built closer to the ground, it is wheelchair accessible. Nearby there's a self-guided meditation Forest Walk to explore.
The smallest of the three, the Birdhouse looks like a classic, kids clubhouse. With two flights of stairs leading up to the top, it's a fun climb. Jake Jacob and Pete Nelson of The Treehouse Workshop of Seattle, Washington built both the Cathedral and the Birdhouse.
If you get hungry after all that exploring, you can eat at The Terrace, Longwood's certified green restaurant. It uses only the freshest fruits and vegetable. Also, it has efficient lighting, sustainable furniture made with 70% recycled materials and eco-friendly flooring.
The people of Philly obviously love their treehouses. Out on a Limb: A Tree Adventure at the Morris Arboretum offers yet another reason to let your inner child run free. It is a walkway built on stilts within the trees, leading to a suspended man-sized Bird's Nest.
Don't miss the 250-year-old Chestnut Oak tree, which is the centerpiece of their exhibit. Designed by Metcalfe Architecture & Design this exhibit focuses on tree specimens, so they took great care in protecting them as they created this adventure.
As with the previous treehouses, the structure doesn't actually touch the trees – they're protected with wooden slats and stabilizing fabric. In case of any weather damage, each piece can be repaired separately. Furthermore the whole exhibit can be moved if necessary with cranes and reassembled.
Photos Courtesy of Morris Arboretum, by Paul Warchol
The steel micro-piles don't hurt the trees roots like cement ones would, and help hold up the 450 foot long walkway and suspension bridge. The walkway is made out of harvested back locust wood decking, which doesn't need to be pressure treated and withstands the test of time.
Leading across the bridge to the Bird's Nest, children love "sitting" on the eggs that are left behind. There's the Squirrel Scramble, a rope-netting that visitors sit on to relax. Being 50 feet up provides great views allowing visitors a new perspective.
And that's the whole point of treehouses, a fresh and new perspective.
Do you have a secret passion for treehouses? Which one is your favorite?