I think I've found 'The One'. Yes, it's true. Since I've been frequenting Australian shores I've been waiting and hoping, hoping and waiting for the right one to come along. And now it seems my wait is finally over. The Lost Lands festival is here!
Set to be held on Melbourne Cup Long Weekend (29th-30th October) in the blissful sprawling grounds of Werribee Mansion and Parklands, The Lost Lands is a two-day music and arts festival designed for families and friends. It is the brainchild of Falls Festival founder Simon Daly, who seems to have his finger firmly on the festival lovers' pulse. It's like he's been in my head.
For years, I have been craving a festival reminiscent of the good old days in the UK where many festivals cater to the whole family. Where children are thought of in the line-up and where no one complains if the kids are being raucous, because usually the adults are making much more noise. Where there is family camping and a chance for parents to relive their well-spent youth (or 30s) sitting on picnic rugs in the sun, coiffing a few glasses of sparkles or some lovely craft beer while being serenaded by bands they've never heard of and ones they love. Where there is space to be creative and crazy and let go, no matter what age you are. Those are the trimmings of a great festival, which is why I'm a bit excited about The Lost Lands coming to Melbourne.
The Origins of The Lost Landlands
A couple of times a year, founder Simon Daly spends a few days camping with around 30 families where kids and adults of all ages bond over fun activities, and without a screen in sight. He imagined a space where art, music and family camping could be integrated to provide a similar experience as his own.
A friend suggested he visit Camp Bestival (one of the best in the UK – I miss it so) on the Isle of Wight. Simon and his family embarked on the mother of all camping trips and set off for England, all in the name of research.
"I took the whole family at the time – my wife along with Lyla 6 and Oscar 2. We camped for four days and nights with 16,000 adults and 15,000 kids. The kids were thoroughly engaged from start to finish. It was one of the most enjoyable festival experiences I've ever had – a complete sensory overload!" says Simon.
This Camp Bestival experience helped bring The Lost Lands festival to life.
"Programming for families is really rewarding. Being able to curate a festival later in life and adapt all the best things I've seen in festivals over the past 20 years has been amazing! With an audience of families and friends ranging from 2 to 62, I feel like I have a blank canvas. The festival has no boundaries for creativity."
Thankfully, The Lost Lands crowd is be capped at 3,000 people, which from experience of boutique festivals in the UK like The Big Chill and Secret Garden is a lovely number.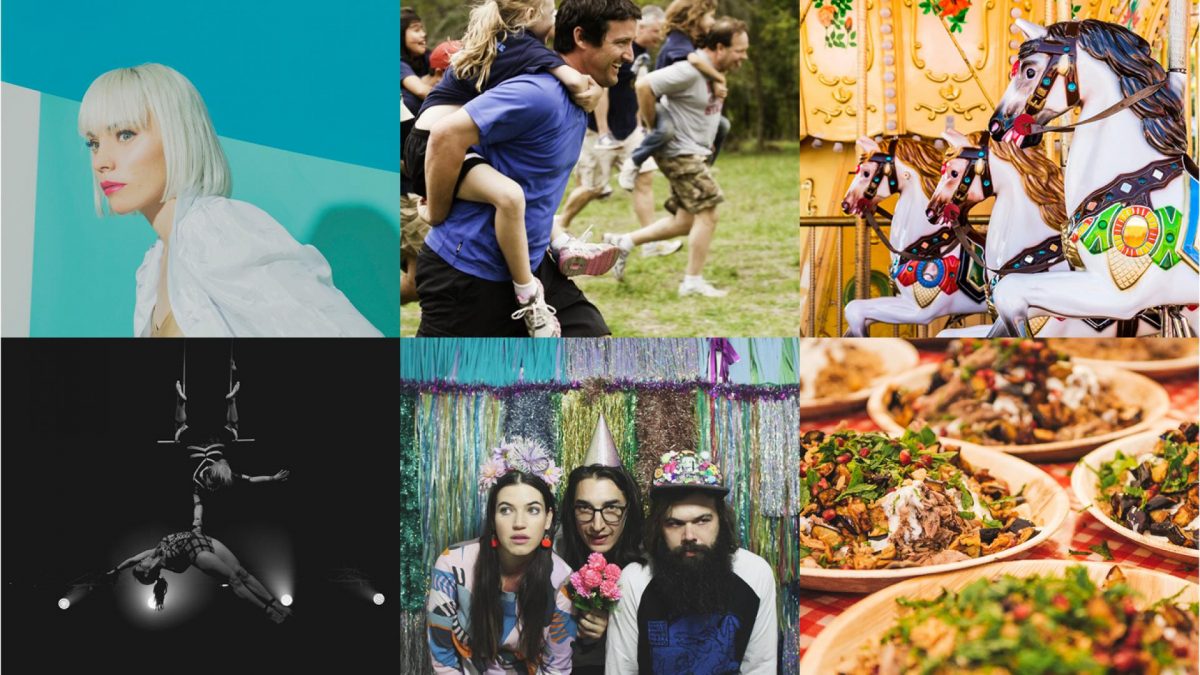 The Lost Lands Line Up
The Lost Lands promises to be a heck of a weekend with an international musical line up, headlined by Mariachi El Bronx and Ozomatli and featuring Australia's own Missy Higgins, Architecture in Helsinki and The Waifs. The kids' line up is amazing, with three dedicated stages. Children's shows feature circus trick tease group Children are Stinky, The Fairy Show, the magician Liam Power, Pants Down Circus and the Teeny Tine Stevies, to name a few acts.
If you want to get into the true spirit of the festival and great creative, there are Textile Workshops, Dance Workshops, Circus Workshops and a Laughter Yoga Workshop. There will be vintage rides, face painting and dress ups for young and old.
Talking of dress ups, you may or may not have noticed that The Lost Lands is being held over the Halloween weekend, when traditionally children will spend the Saturday night out trick or treating. Some adults may like to do this too, especially adults from Ireland – the birthplace of Halloween – who like nothing more than a good excuse for a dress up. Hey, it's a festival; dressing up is the rules. Be sure to pack something goulish!
Festival Fodder and Accomodation
There will be food and wine aplenty, with breweries, wine makers, providores, pop-up shops and food trucks offering a huge array of culinary options, catering to a wide variety of diets. And if you've got fussy eaters, never fear, for home-made goodies are equally welcome. All they ask is to leave the glass at home. There will even be a Lost Lands General Store if you've forgotten something important, like the vegemite!
Camping is the way to go at a festival for the majority, but for some people setting up tent is just all too much. Check out the glamping options available, where you'll possibly get the evils from cash-strapped parents for even thinking about it, or go for the ultimate in luxury and a stay the night in the Mansion. We won't judge you. Much.
What's so eco about The Lost Lands?
Well, that's the cool part. This festival is savvy to the current state of mind of us revellers. They know that although we love our music and dancing and song, and the kids like to boogie, part of camping out is embracing the wild; being at one with nature. Camping in the grounds of Werribee Mansion means festival goers will be closer to nature than ever. Right next door is Werribee Open Range Zoo, which unlike many zoos has vast grassy areas where animals are free to roam. Entry is free for children, but parents will have to pay if they are not already Zoos Victoria members.
Wilderness Walks and Bird Watching tours are available, an insect installation will keep budding entomologists engrossed and rangers from Parks Victoria will be on hand to answer questions about plants and animals on guided tours around Werribee Mansion grounds.
There is also kids and family yoga available in case you have difficulty winding down, or just want to soak up the atmosphere of a truly entertaining weekend. I, for one, cannot wait.
But what if it rains?
Ah, the age old festival question. No doubt hundreds of furrowed brows will be studying the rain radar app and praying for the legendary Melbourne weather to behave itself. I've found the best way to deal with a rainy festival is to just get wet. Don your too-short-shorts, pop on your patterned Hunter gumboots, flip up your hood and show those kids how to party like it's 1999!
For more information on The Lost Lands festival, tickets and accommodation options, please visit The Lost Lands website.