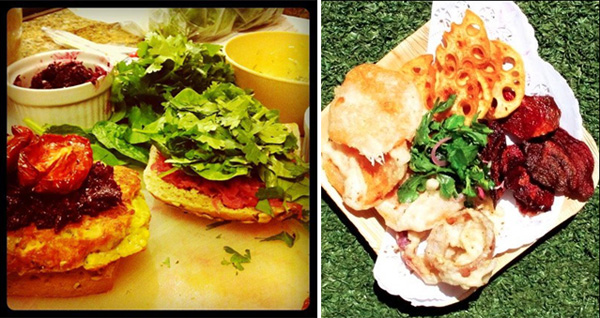 All images courtesy of Veggie Patch
Mention the words 'food truck' and visions of hot dogs, stodgy burritos and greasy burgers come to mind. The proposed food truck named Veggie Patch is working to change all of that and Sydneysiders can expect a very different meal to be rolling up to their sidewalks soon.
Conceptualised by Milenka Osen and Georgie Swift from TMOD, along with Karl Cooney from Yulli's – a Surry Hills vegetarian restaurant – Veggie Patch is an eco-friendly approach to the food truck movement. As described by the trio, "Inspired by the 'paddock-to-plate' movement, the Veggie Patch aims to reconnect us to what we eat and where is comes from."
The Truck
The body of the truck will be in the shape of a barn adorned with a mural of a vegetable garden. A live herb garden will be maintained on the roof of the truck to literally drive the 'green' reference home. It will run on vegetable oil and installed solar panels will provide some of the power. In order to maintain a small ecological footprint, all of the waste will be compostable – including the packaging.
The Menu
But what about the food? The proposed menu is thick with healthy fare ranging from tofu burgers to mixed veggie chips. The organic produce served by the truck will be locally sourced from New South Wales and the herbs on the roof of the vehicle will be used as garnish. Diners can expect innovative, restaurant-quality versions of vegetarian classics that will reflect the seasonal produce available in the area. Fresh juices, organic lemonade and homemade ginger beer will also be on sale.
The Patch
Veggie Patch will be rolling around Sydney's CBD and Surry Hills neighbourhood serving breakfast, lunch and dinner.
Live twitter updates on the forthcoming food truck app by the City of Sydney will enable patrons to order bircher muesli, soaked in apple juice, with coconut and dried persimmon, topped with a banana, date and almond foam with berries and figs for breakfast; quinoa salad, with blanched broccoli, roasted pine nuts, olives, avocado, salsa verde, topped with tahini and mung beans for lunch, and for dinner a veggie burger of zucchini, chickpea, feta and mint fritter, with roasted tomato, beetroot relish, caramelised onions, dill mayonnaise, coriander and spinach on an ancient grain bun.
The Veggie Patch's menu echoes the unusual flavour combinations found at Yulli's, and by pairing healthy food options, eco-friendly transportation and production as well as the convenience of a mobile restaurant, the Veggie Patch is sure to be a success with the inner-city diners.