Only an hour's drive from Melbourne, Woodend is a small town in the Macedon Ranges. It was settled during the gold rush in the early 1800s and was the main thoroughfare for prospectors heading up through the Black Forest to Bendigo and Ballarat. Today, it's a quiet town, but has a quintessential Australian village atmosphere making it a popular tourist destination.
I've escaped for the weekend with two good friends, who I rarely get to see. One from Christchurch in New Zealand and one from Melbourne. We used to enjoy an odd dance or two in good old London Town in a past life and now with six kids between us the only way to have an uninterrupted conversation is to hide away in the woods. Woodend seems like the perfect place.


Our woodland retreat is secreted away amongst a grove of tall eucalypts that tower over our little cottage. The welcome rains after a hot summer seem to fall as mist. Smoke swirls in great tendrils from the neighbour's chimney at the bottom of the paddock and two cream alpacas look at us quizzically, watching our every move. Succulents decorated with bulging raindrops and brightly-coloured wildflowers are spread around the grounds.
On the verandah sits a beat-out yellow sofa. A couple of empty vintage bird cages hang from the rafters and a well-stocked wood pile hints to a tantalizingly real fire.
Inside, a pot-bellied stove is already fired-up to welcome us. A white L-shaped sofa sits opposite, and in the kitchen there is a large dining table with enough seating for us all. A central bathroom is small but perfectly formed with an inviting iron-footed bath along one wall.
There are two bedrooms, one twin and one queen just off the living area. I am offered the queen bed, but not out of goodness or charity, no, the other two girls know I'm a night owl and they will go to bed early. They don't want me to wake them up! Which is understandable; they get woken almost every other night, this weekend away is meant to be a break from it all. I, on the other hand, will relish having some precious uninterrupted time to read until the wee hours.
My bedroom seems overly luxurious for a small wooden cottage, but attention to detail in the styling is impressive. It has a rustic French Provincial feel, with Queen Anne furniture, soft chiffon curtains hanging from a canopy over the bed and a grand selection of pillows to choose from.
After a few days catching up on old times and chatting about the future, taking long walks and spending hours reading in silence our batteries are recharged once more and we're ready to head back to reality.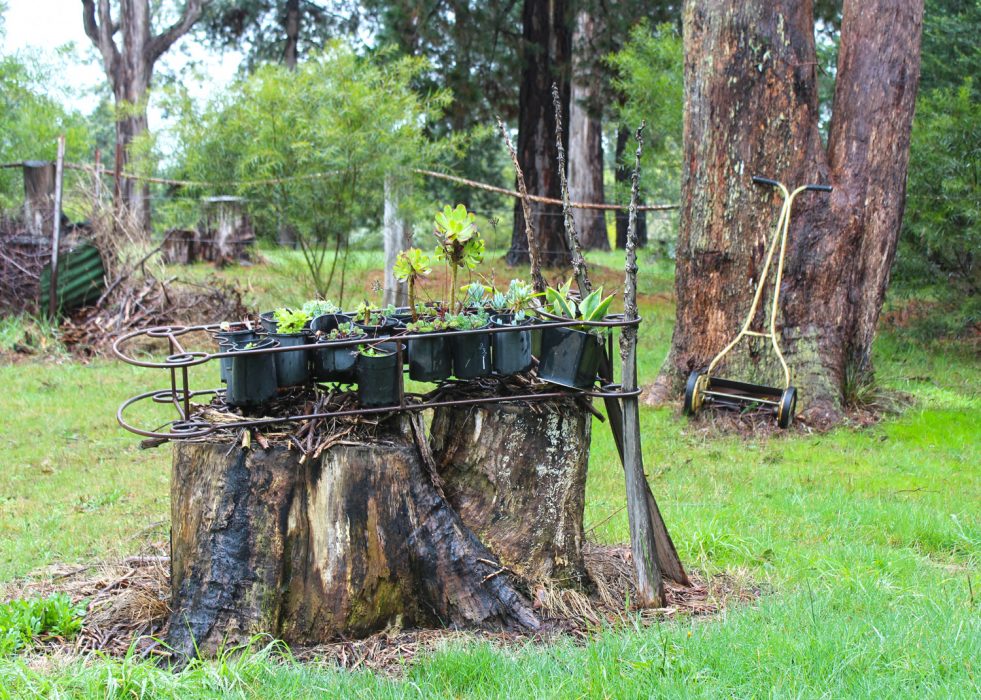 Feast in Woodend
There are a handful of quaint little coffee shops along High Street in Woodend. The Village Larder, our first choice for breakfast during our stay is obviously everyone else's first choice and is usually packed. Avoid the queues and head to the Fox in the Chamber across the road. They have partnered with Woodend Neighbourhood House to offer barista training, which means you're guaranteed good coffee.
Bourkies Bakehouse, at the bottom end of High Street, boasts the best Vanilla Slice in Victoria (although so do a hundred other VIC bakeries). Still, the Bakehouse is laden with awards so it's not hard to get something delicious here.
Once you've worked up a thirst wandering the High Street, head to Woodend's boutique brewery – Holgate Brewhouse. Their ales and lagers are free from preservatives, artificial colouring and flavouring, and I can personally vouch a number of them are delicious!
Red Wine Bar – formerly known as Zarby's – is one of a handful of restaurants in Woodend. Here they serve a mix of Italian and modern Australian cuisine. It can be very busy at the weekends so expect to wait a little while for main meals. There is a very good wine selection so at least you can enjoy the wait.
Sleep in Woodend
We booked Woodend Cottage directly through the owner's website. Booking was quick and easy and all queries were replied to promptly. The owners are members of Land for Wildlife and are committed to minimising damage to the environment. They have stripped the gardens to their indigenous roots. Their plantings have encouraged insect and bird life back into the garden and the endangered Growling Grass Frog and some reptiles are frequent visitors.
If Woodend Cottage does not suit the party you're travelling with, there are a number of other accommodation options in and around Woodend bookable through any of the popular booking engines.
Holgate Brewery also offers accommodation. They have 10 rooms of varying sizes. Some packages include meals and drinks, which is a bonus – you won't have to worry about driving anywhere after sampling a few of their best beverages.
Experiences in Woodend
Hanging Rock, a distinctive rock formation not far from town, is a big visitor drawcard. Not only is it a sacred place for local indigenous people, but it was also the setting used for Joan Lindsay's infamous mystery novel Picnic at Hanging Rock.
Gravity Hill is an anomaly. Also known as Anti-gravity hill, this mysterious spot just outside Woodend has confused and delighted many who have ventured to drive through. Here, the lay of the land surrounding the slight downward slope creates an optical illusion. Go there, take your car out of gear and it will appear to roll uphill against gravity. It's somewhere on Straws Lane, but it's not signposted in any way. Shh, it's meant to be a local secret. I drove along the lane a few times but was too chicken to stop and really study the road as I was alone and there were a few cars around. I need to go back to Woodend just to see if this is real.
Hanging Rock Winery on the slopes of Jim Jim in the Macedon Ranges is only a few kilometres from Hanging Rock. It was established in 1983 by the Ellis family with the aim of making Australia's finest sparkling wine in the French marques style, similar to Bollinger and Krug. The winery recently won Winewise Championship Best Pre-2015 Pinot Noir for their 2014 Jim Jim Pinot Noir.
The Macedon Ranges are popular with bushwalkers, hikers, runners and cyclists. There are a number of trails to explore wending through Wombat State Forest and Mount Macedon. The area is host to a few events during the year, including Run the Rock and the Trails+ Mountain Trail Series. If you prefer something less strenuous, why not enjoy a good old fashioned picnic… just don't read Picnic at Hanging Rock before you go!
Getting there
By car
From Melbourne, take the Calder Freeway north towards Bendigo. Follow the signs to Bendigo until you reach Gisborne, then veer off and follow the signs to Woodend.
By train
The V/Line fast-train from Melbourne to Bendigo has regular stops at Woodend.