Hoping to follow the extremely successful example established by NYC's High Line Park, Philadelphia has launched a plan to convert the abandoned Reading Viaduct into an elevated green area.
Once used to ferry passengers and cargo into Center City, the viaduct hasn't been functional since 1984. In an effort to rescue it from disrepair, the city, in collaboration with Studio | Bryan Hanes, has developed a comprehensive plan to revitalize the space and create a quarter-mile long park across the site.
This idea has been welcomed enthusiastically by the community and, needless to say, is a huge improvement over the earlier plan that involved possible demolition of the viaduct.
However, an environmental and feasibility analysis carried out by the Center City District in 2010 revealed that transforming the Reading Viaduct into a green space would cost an approximate $40 million, whereas demolishing it would require additional expenditure of roughly $10 million.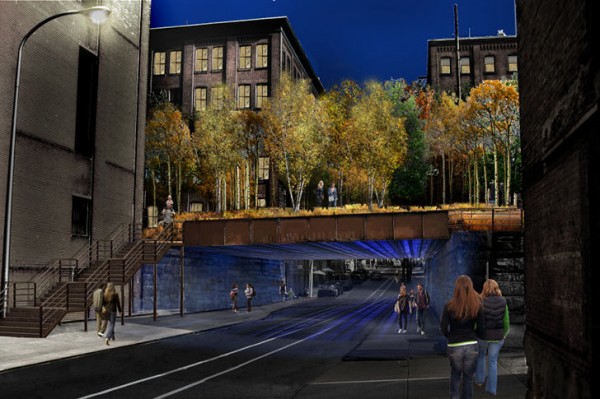 Deciding to go with the cost-effective solution, the district asked Studio | Bryan Hanes and Urban Engineers to come up with a concept design. An extensive study among the people of the community indicated they did not want too ostentatious a park, preferring instead a simple, informal design with lots of grass and flowering plants and ample room to sit and walk. For this reason, the design includes wide walking paths lined with shady trees, a place for dogs, seating for visitors, and even an outdoor classroom.
There is no denying that the Reading Viaduct Park is an ambitious project. Work on Phase will likely begin in 2013. When completed, it's going to increase Philadelphia's green cover by 300,000 square feet. Furthermore, if NYC's High Line Park's popularity is anything to go by (it attracted 2 million visitors in the first year), Philadelphia could find not only be well on the way to a more sustainable city, it would have a stunning new tourist attraction into the bargain.
Images: Center City Philadelphia