Festival season is well on its way in the UK, a country renowned for some of the best niche festivals on the planet. Many party people plan their whole year around their favourite festival, encouraging friends to come from far and wide to attend the mayhem. But they're not the only country in the world to host some great hoedowns, especially of the green variety.
As people are becoming more aware of the effects large festivals can have on the environment, organisers and attendees are rallying together to ensure their festival has little impact on the usually glorious surroundings. Festivals the world over are adopting more sustainable tactics, or dedicating entire festivals to being green. Here we share some of the best we've discovered from around the globe. If you're in their neck of the woods while on your travels, why not get a ticket and join the festivities?
The Green Man Festival started off as a one day event in 2003, with only 300 participants. Today, this annual music festival has turned into a massive phenomenon spread over four days, of which three days are dedicated to a heady mix of folk, psych, Americana, psychedelic, indie, dub-reggae, electro and stoner rock, and that lasts all through the night.
In addition to music, participants can also see and experience art installations, theatre, Welsh poetry, ceilidhs, massage areas, on-the-spot jamming sessions, and bonfires. For food, you can take your pick from the several stalls serving a wide range of international cuisines, most of which use locally sourced organic produce. There are plenty of watering holes dotting the site and you can get anything from cocktails to real ale and cider and hot toddies. The next Green Man fest is on 19/20/21 August 2011, so get your tix soon!
Lightning in a Bottle – the name sounds whimsical enough to conjure fantastic images in your head. And if you should happen to participate in this event, you'll find it to be even more fantastical than you could have imagined.
The festival was conceptualized by quartet Dede, Josh, Jesse Flemming and Dream Rockwell, who are recognized the world over as the creative force behind DoLab, an art collective based in LA. Lightening in a Bottle is three whole days of mad fun amidst art, music, meditation, yoga, and dance. Even their workshops and lectures add to the general air of merriment. As Rockwell puts it, "Lightning in a Bottle is a love fest." That we can see…people obviously love it enough to make it so popular.
3. Greenfest, Brisbane, Australia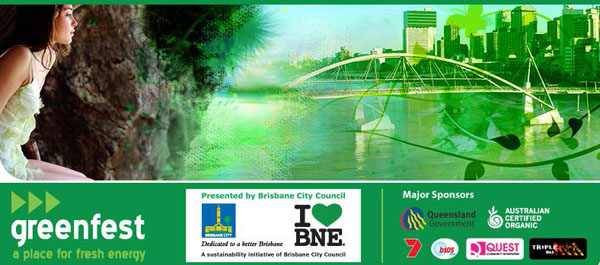 Greenfest is Australia's largest, free-to-the-public event that focuses on promoting the vision of 'fresh energy'. Opened in 2008 by Jane Goodall and local dance troupe Nunukul Yuggera, Greenfest is a relatively new event on the scene. Yet, it has managed to create a stir and secure a place for itself among the biggies. This festival is part of the UNEP Climate Neutral Network and has also pledged its support to the Billion Tree Campaign
Presented by the Brisbane City Council, the aim of this three day festival is to educate participants about the concept of low carbon economy. It provides a blend of music, fashion, food, film, theatre, technology, art, and comedy, bringing together commercial exhibitors, music bands and eminent thinkers that share a common objective – a greener future for the planet.
If your idea of a green festival is a solar powered stage, a sound system powered by pedals, showers heated by wood-burning stoves, and composting toilets, then we've found the festival for you!
Organized by Robin and Joe Bennet, the Wood Festival has become so popular amongst avid festival goers (both eco-conscious and the not-so-eco-conscious) that in just four years, since its inception, the festival has already bagged five prestigious green awards, including the Industry Green Two star award from Julie's Bicycle and the Gold award from A Greener Festival.
Catering from the youngest of the young to the oldest of the old, Wood Festival organizes workshops on singing, yoga, woodcraft, and jewellery making. If you are eager to voice your opinion, you can do so at the discussions that are held during lunchtime, and for those with keen sense of style, there's even a fashion parade to enjoy.

The website for Green Festival describes it as a "walk through a sustainable community". The main aim of this event is to make attempts to live a life that is in tune with the environment and not against it. The effort is not restricted only to personal efforts, but extends it to the society as a whole and includes businesses and commercial establishments as well.
This serious message is imparted to the public through a whole lot of fun activities where, in addition to lectures and workshops conducted by popular educators, authors, and leaders, participants can enjoy great music, diverse cuisines, organic wine and beer, and even go shopping for eco-friendly products ranging from clothes, cosmetics, toiletries, fair trade coffee, chocolate and oils, to kitchen tiles.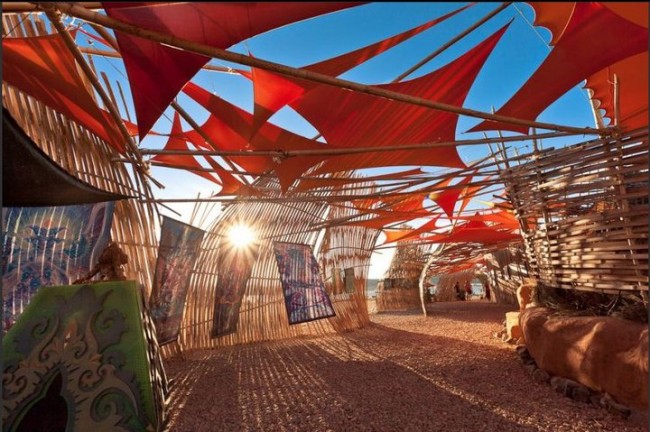 Born in 1997, the unique thing about the Boom Festival is the absence of commercial sponsors for the event – a rare thing among the bigger festival these days. To organize an event of this proportion without sponsorship is a feat in itself and its popularity, in spite of the exorbitantly priced tickets, is testament to the fact that the message it's sending out is well-received indeed.
This biennial festival, held around the full moon, lasts five days and features music, sculpture, paint, installations cinema, video art, and theatre. Although the event started off influenced primarily by electronic music, it has become a multidisciplinary event to cater to a wider audience.
The venue for the festival is a great indication to the intention of the festival – an organic farm loSunricated in the beautiful countryside of Somerset. Originally titled the 'Sunrise Summer Solstice Celebration', this event was started in 2006 in place of the Glastonbury Festival, which was taking a year out to allow the pastures to regenerate. Eventually, the 'Summer Solstice' got dropped from the name.
While music forms the core of all the events, the Sunrise Celebration also makes room for other cultural activities. Visitors can take part in a host of interesting workshops; voice their opinion in debates and discussions, sample great food, drink organic wine and beer, and sing, dance and cavort with absolute abandon. As a good festival should be!