Regular readers of Verdemode will know that our editor Linda McCormick loves Barcelona. Dreams of living there permanently and visits whenever she can. So when I was making a return visit to Barcelona 13 years after my first, she was the first person I thought to ask for tips on how to make my second Barcelona experience even better than the first.
Of course she poured out a string of recommendations for places to see and places to eat and places to take kids. In amongst all that was something that caught my eye. She told me to have a look around in the Gràcia neighbourhood. There are hardly any tourists she said, and lots of great little squares with a different, and staunchly Catalan vibe.
The village of Gràcia used to be just that, a village. The mighty Passeig de Gràcia now lined with grand buildings used to be a simple country road. It wasn't absorbed into the city of Barcelona until 1897.
I rented an apartment from Javier through AirBnB that was five minutes' walk from the metro station and on a quiet neighbourhood street. It's that whole live like a local thing, which we love here at Verdemode. Although it wasn't such a quiet street that it didn't have a really excellent bar for 'La hora del vermut'. But more on that later.
My entirely successful strategy for discovering Gràcia revolved around the lovely people at Devour Barcelona. I signed up for their food tour of the Gràcia neighbourhood and embarked on four hours of tasty treats and fascinating insights into this lovely district.
You have probably heard of the famous La Boqueria indoor market just off Las Ramblas in Barcelona. This colourful mercado is great for photographs and tapas, but it is no longer very authentic. Barcelona is famous for its indoor mercado, around which community life revolves in each neighbourhood. They are bustling, chaotic places oozing with friendliness, character and the best fresh food.
El Mercat de l'Abaceria Central opened in 1892 (before La Boqueria) and is at the true heart of Gràcia. Every vendor is an expert on their products and stalls have often been held by the same family for multiple generations. A typical product to be seen often in the market is bacalao – the mounds of white salt cod, either piled in slabs or soaking in water. This is an example of a traditional food that was once a necessity in the days before refrigeration but is still an important part of Catalan cooking and adds huge flavour to many dishes.
Linda was right about Gràcia being staunchly Catalan – everywhere we walked we saw the Catalan flags hanging from windows and balconies. The independence flag was also in evidence. Gràcia is around 65% Catalan, compared with only 35% in central Barcelona.
It is also well-known for its many immigrant communities. One such was represented on our tour at the Patisseria Principe, a Syrian pastry shop elegantly decorated with Middle Eastern tiles and lamps by Mostafa, who came to Barcelona around 25 years ago. The selection of individually made confections created from freshly-baked filo, chopped nuts and honey look, smell and taste simply divine.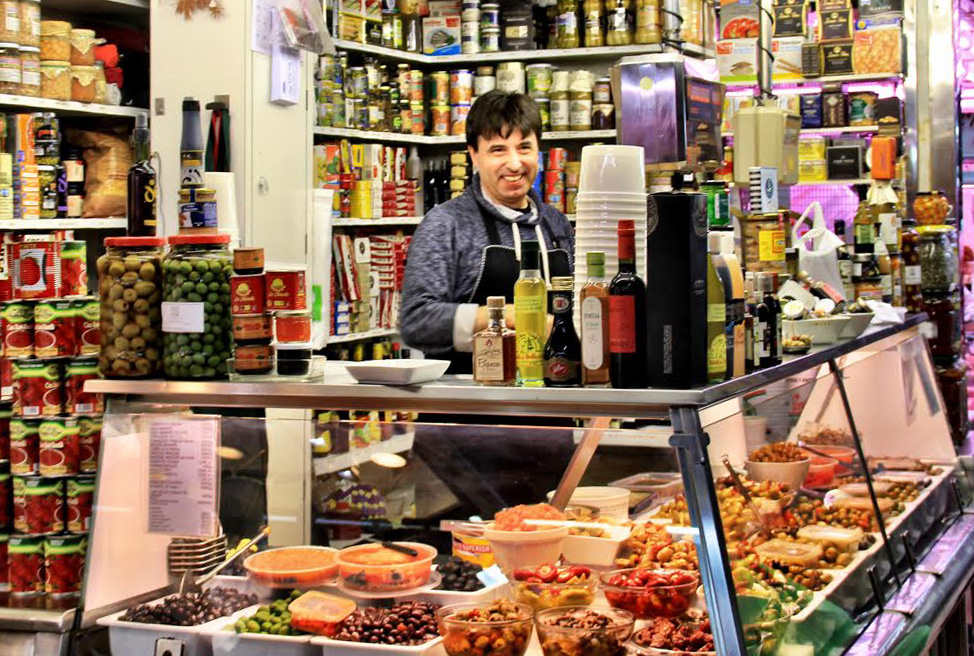 Gràcia has many lovely old public squares and we visited several on the tour. My favourite was the Placa de la Vila de Gràcia with its handsome clock tower built in 1862. This has long been a symbol of Gràcia, since it was brutally bombarded by Spanish troops in the 1870s when the feisty people of Gràcia attempted to secede in protest at the conscription of their sons to fight for imperial Spain. Under the trees there are many cafes and this is a wonderful place to come on a warm evening.
At one end of the square is the Gràcia Casa de la Vila or town hall. Peering through the windows we could see displayed a collection of bizarrely oversized models and puppets. Every neighbourhood in Gràcia holds an annual festival and the Festa Major de Gràcia is the biggest and most famous of them all, attracting 1.5 million people every summer. The streets are decorated and the festival fills the streets and placas with music, dancing and fun. It is particularly famous for the large puppets that take part in the main parade and some examples of these are in the town hall.
Gràcia has historically been a working class neighbourhood, although it is all too trendy nowadays. At Jose's tiny eatery in a quiet street you can still see the original name of the shop above the door – Llegums Cuites Isabel. This simply means Isobel's cooked beans and is an example of the type of shop that sprang up during the industrial revolution to supply women working in the textile factories with home-cooked takeaway food. Beans are, of course, an important part of the Catalan diet. Jose continues this tradition with his delicious ready-to-take-home dishes. My favourite was his famous meatballs with a life-changing chickpea gravy.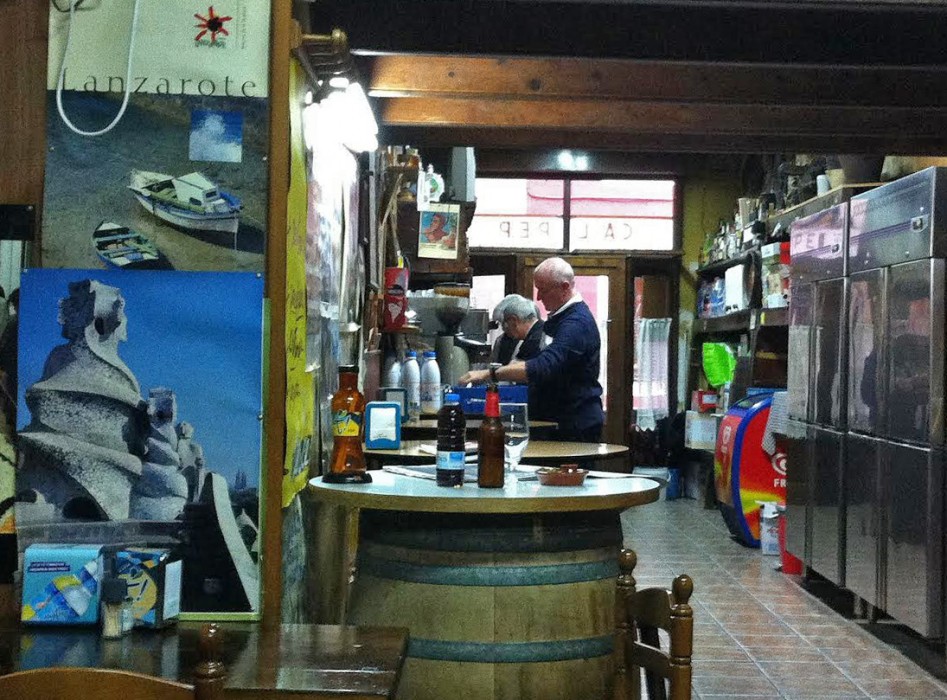 Vermouth is a traditional aperitivo before a big Catalan lunch and this dark brown fortified wine has been blended in old-fashioned bars for centuries. Each distillery has its own special mix of herbs and sugar added. I had my first vermouth Cal Pep, a perfect example of an old-fashioned bodega where a little oak barrel at the end of the bar has a spigot ready to dispense 'vermut'. Although Pep doesn't sleep upstairs anymore, it certainly feels like a place that hasn't changed in years, just added more layers of dust and old posters to the dark wooden walls.
Vermouth is taken straight and chilled, served at Cal Pep with a snack of pickled anchovies and fuet, the Catalan cured pork, because sharp salty flavours complement the sweet drink. There's a big bottle of seltzer on the table as well, should you wish to add a little water.
In the past few years vermouth has become super trendy in Barcelona. Possibly because at around 15% alcohol it provides great 'bang for your euro' during times of economic hardship. So, at the end of the day – after some recovery time back at our apartment – we headed straight out to our local bar for tapas because it was 'la hora del vermut' yet again.
Need to Know:
The Devour Barcelona Gracia neighbourhood tour costs 65 euros, lasts four hours and includes 9 or 10 stops for tastings. Check out their Facebook page and blog for fantastic tips on enjoying your time in Barcelona (and Madrid) and sign up for 'The Bite' – their Spain-inspired foodie newsletter – for updates, recipes, food tips, discounts and more.
NB: Lead image by inside_loop via Wikimedia Commons, all other images are copyright of Natasha von Geldern.