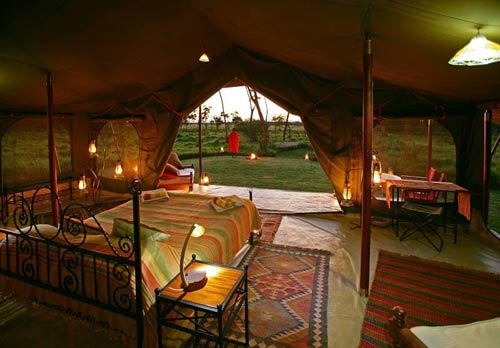 The fabulous Elephant Pepper Camp in Kenya is the definition of relaxed isolation. Situated in the heart of the great African wilderness that attracts millions of tourists a year, the lodge is the perfect place for a stress-free getaway. Choose from plenty of safari and outback activities during the day and relax around the campfire at night, listening to the sounds of Africa.
There is perhaps nothing better than sleeping under the stars in the great outdoors in Kenya, and the Elephant Pepper Camp offers just the right combination of comfort and ruggedness. The camp is also committed to reducing its impact on the beautiful surroundings, and is committed to different eco principles in a bid to protect the environment. These include the installation of eco-flush toilets in the tents (each tent has its own bathroom) and a complete camp shutdown for two months of the year in order to let the local area take a break from tourists.
It doesn't stop there, the camp's managers are totally committed to promoting conservation and sustainability. As a result, the Elephant Pepper Camp has been awarded the highest Eco Rating certification by local body Ecotourism Kenya. The lodge supports local schools, raising money for much needed facilities and supports local tribes, as well as undertaking basic recycling and waste disposal. The resulting award issued by Ecotourism Kenya is the highest in the industry, and recognises the ongoing efforts by the Elephant Pepper Camp and their positive impact on the local environment.
If you're interested in staying at Elephant Pepper Camp, check out their website for more information and contact details.