All photos by Jenny Erskbak, Associate Producer/Writer for GLP Films, courtesy of Green Living Project
Comprised of a group of dedicated storytellers who squeeze in six to nine films per hyper-focused trip, interviewing 10 to 14 people a day, the folks at the Green Living Project (GLP) seek to:
"educate and inspire individuals and communities to live a more sustainable lifestyle through stories focused on unique and diverse examples of sustainability from around the world."
Before the GLP production team sets out, their education and research team painstakingly seeks out non-profits in the region to find out not only who is doing the most good, but also what organisations have the most inspiring tales.
This year's filming took them through Eastern and Central Africa, and they're headed to Asia (Northern Hemisphere) this fall and winter. They've made it to 17 countries so far in North, Central, and South America and Africa. In select cities this fall, they are premiering films from their recent trip to Africa.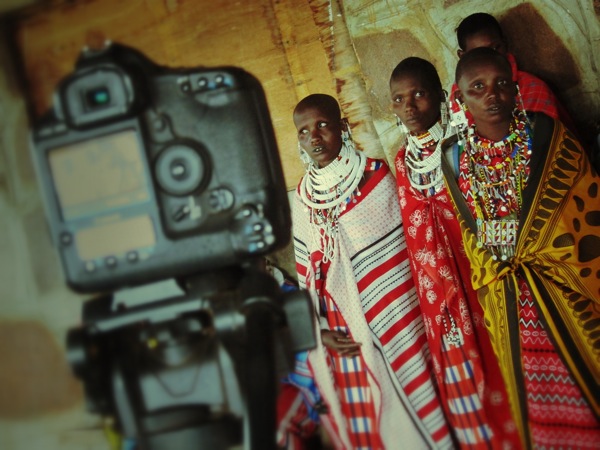 GLP Premieres at the Ecotourism and Sustainable Tourism Conference
At this year's ESTC, we were treated to a special advance screening of two of GLP's new African films, along with several of their other recent favourites:
Okapi Conservancy – Democratic Republic of Congo: A powerful film depicting a preserve that protects Okapi, a rare zebra-like creature that was attacked shortly after filming. Rebels killed six staff members, took 50 hostages, and slaughtered all of the conservancy's okapi.
Angelic Organics Learning Center – Illinois: As the first CSA available in Chicago, Angelic Organics has long sought to remedy the food desert in Illinois' urban areas through small urban plots and outreach. Mixing farm and gardening education, work experience, and leadership opportunities, Angelic Organics reaches underprivileged youth and connects them with the land and better opportunities for their own free time and future.
Potters for Peace – Nicaragua: Women are trained in Pre-Colombian pottery techniques to create a livelihood for themselves and also create free, simple ceramic water filters that remove 99.9% of the bacteria in water to distribute to communities struggling with access to clean water. The number of children who die each day from unsafe drinking water is akin to four jet planes full of children crashing each day.
Equilibrio Azul – Ecuador: In Porto Lopez, Ecuador, where the economy revolves around the fishing industry, GLP profiles Andre Vaquero and the team at Equilibrio Azul, who collect data on the negative impact of industrial fishing on sharks, turtles, and other marine life, and educate local fisherman in sustainable fishing techniques
Working Bikes – Chicago: Since 1989, the Working Bikes has gathered donated or trashed bikes and shipped 37,000 bikes in 90 shipments to developing countries where they create both jobs (through repairs) and modes of inexpensive transportation. Some bikes are also fixed in their shop and donated to underprivileged children in Chicago and across the nation.
Naboisho Conservancy – Kenya: In order not only to protect their land, but to profit from it without hunting or selling it off in pieces, 500 Masai landowners banded together to create a group land management approach that allows wildlife to breathe and creates sustainable income for the Masai community.
After each film, Rob Holmes, GLP's director/producer and chief storyteller, shared an important take-away from each film. Even though we may not be able to go to Ecuador ourselves and help take care of the turtles, we can make sure we never use another plastic bag.
GLP's New Africa Films
GLP will be premiering their new films around the U.S. this fall and winter. Check their events page to see when they'll be showing near you.
In addition to the films about the Naishobo and Okapi Conservancies we caught at ESTC, they also have four other new films about Africa:
Fairtrade Africa – Tanzania: indigenous farmers growing fair trade coffee on the slopes of Africa's highest mountain.
UNITE – Uganda: (pictured above) conservation education for primary school children.
Thompson Safaris – Tanzania: community-based tourism collaboration between Thompson and the Maasai near Serengeti National Park.
Mount Kenya Trust – Kenya: conserving the Mount Kenya National Reserve Elephant population and their migration corridors.
You can catch the gorgeous trailer here.
Do films like these make you want to get out and volunteer? Broaden your horizons about important issues around the world? Bring parts of the world to you that you might never make it to otherwise?