It's great news for wild-life lovers and tiger enthusiasts in India and all over the world. Deputy Chief Minister of Bihar Sushil Kumar Modi's recent announcement that the government was keen on turning the Valmiki Tiger Reserve (VTR) into an exclusive ecotourist destination has been received with great excitement and enthusiasm.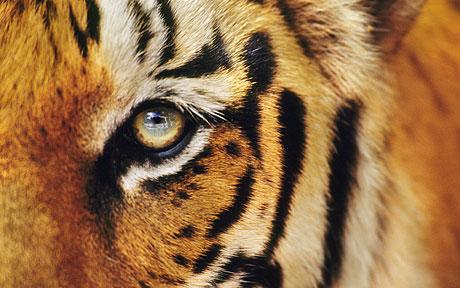 Image via: Telegraph
Spread over nearly 900 square kilometers, VTR is located in Bihar's West Champaran District and near Nepal's famous Shahi Chitwan Park. Although best known for its tiger population, Valmiki Tiger Reserve is rich in other forms of wildlife as well, including the wild dog, Indian civet, leopard, hyenas, sloth bear, deer, sambar, nilgai, cheetal, python, wolf, jungle cat, Indian bison, langur, black buck and the single-horned rhinoceros.
According to the census conducted in 2006, tiger population in this region was placed roughly around 10-13 in the immediate area. These numbers were based on the observation of pug marks and food remains left behind. However, the tiger census conducted last year using the more scientific method of photo camera trapping placed the big cat's population on the higher side. There are thought to be 1,350 tigers in the whole of the subcontinent.
Image: Fish and Wildlife Service
The decision to go ahead with the new tourism plan is in stark contrast to news last year that India's National Tiger Conservation Authority was to phase out tourism in its 37 tiger reserves, due to mismanagement. An article by Responsible Travel's Justin Francis in May 2010 stated:
"The government's failure to manage tourism responsibly has, by its own admission, resulted in lodges being built in sensitive habitats; hotels blocking corridors tigers follow between conservation areas; and unregulated viewing, which has disturbed tigers."
He went on to reluctantly agree with the government's decision to ban tiger tourism in core conservation areas, in the short term. At the time much work needed to be done with local communities around the park to reduce poaching and damage to tiger habitats.
With the news that Valmiki Tiger Reserve is to be a dedicated ecotourist destination, let's hope the appropriate authorities have worked hard to ensure the failures of the past have been addressed.

Image: Gathering Knowledge
How to Get There
The Valmiki Tiger Reserve is fairly accessible by all modes of transportation – road, rail and air. The nearest airport is in the capital city of Patna, from where the 225-km distance to the park can be covered by commercial taxis. The closest railway station is in Valmiki Nagar which is barely 5km from VTR. If you are travelling by bus, the nearest town that is connected by the state road service would be Bettiah, located about 89 km from Valmiki Tiger Reserve.
Where to Stay
As far as accommodation is concerned, there are several forest rest houses scattered throughout the reserve, which need to be booked in advance through the reserve itself. Although, it's unclear whether any of these houses are the lodges Mr Francis was referring to.
*If any Eco Traveller readers know of good green stays in the area, please let us know and we'll add the information to the article.