Stepping out of the elevator that took us from the cool Singaporean underground to the hot and humid city above, the view that greeted us was like something from the Hollywood blockbuster Avatar. I knew it looked good in photos, but never expected it to be this good.
I'm a sucker for science fiction, and architecture. I adore old, ancient buildings, but have a real penchant for new, innovative design, too. Gardens by the Bay in Singapore pretty much ticks all the boxes, for me.
From a distance, it's impossible to look at anything else – even though the monstrous Marina Sands Hotel sits just across from the Supertree Grove, with its skywalk that crosses three hotels, it's impossible to ignore the futuristic looking gardens opposite.
I pull out the camera and start furiously clicking away, thankful that my ever-patient husband is happy to take control of the kiddies. Our 3-year-old starts running around in circles, dodging and weaving through an imaginary obstacle course, relishing the open space, glad to be free from the confines of the airplane seat she sat in wonderfully for a full seven hours.
I wasn't a very good mum right then, I only wanted to get photos. Lots of them. This place looks more than cool. It's mesmerizing.
I remember writing about the concept of Gardens by the Bay for Environmental Graffiti years ago, thinking it was amazing then, and was surprised how it looked just like the proposed plans now. Few futuristic architectural concepts actually make it to build. I was so glad this did. It means sustainable processes are being truly embraced by the construction world. Architects are forever designing things that look amazing, but don't function effectively when it comes to the crunch.
Gardens by the Bay, or more precisely the Supertree Grove within the complex, is positively revolutionary.
The Supertree Grove
Made up of 12 Supertrees reaching up to 16 storeys high, the Supertree Grove is quickly becoming one of Singapore's most visited attractions.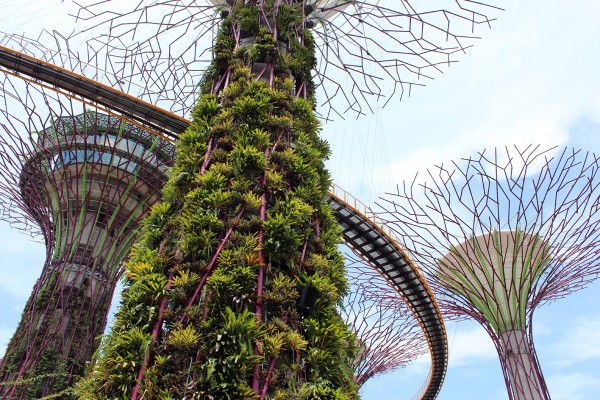 Each Supertree is made up of a reinforced concrete core with a steel frame trunk. Planting panels cover the outside and a canopy in the shape of an inverted umbrella sits on top. Photovoltaic cells harvest energy from the strong Singaporean sun and play a secondary role in the Biomass fuel plant, which recycles much of the green refuse from the city.
Over 162,900 plants comprising around 200 species and varieties of bromeliads, orchids and ferns and tropical climbers are planted on the exterior of the Supertrees. Plants are chosen based on whether they are suitable for vertical planting, soilless, easy to maintain and suitable for the city's climate.
It's obvious the Supertree Grove is still in its infancy as the vertical gardens have yet to take hold along the columns. I'd love to revisit the site in five years or so to see how different it looks then.
I also wish I'd been able to visit at night when the grove is lit up in a dazzling light show, with the OCBC Garden Rhapsody playing in the background.
The OCBC Skyway
Those who know me will know that I get serious vertigo on bridges. I don't think I'm necessarily afraid of heights – I'll happily look over the edge of a cliff – but I can't walk across a 6-foot-high bridge without my legs wanting to buckle. Weird, I know. So when I decided to cross the 128-meter-long walkway that joins the two 25-meter-high Supertrees, I realised this blogging melarkey is actually changing my life. How dramatic?
The truth is: I wanted a good photo!
I've realised of late, I don't take photos of myself. I've missed out on some great opportunities recently because I couldn't present a photo of me in a particular place. I like to take photos of places and other people; I don't really need photos of me. But such is the blogging world… it's important to show you've visited a place, otherwise people will thinking you're telling porky pies. It's like you have to prove you've been there.
And so, in the name of all that is business, I bought a ticket and took the lift up to the Skyway.
I hate bridges.
But boy do you get good photos!
I will admit to major jelly leg syndrome, and wanted to shout at the one other person walking closely behind me to stop, but I kept going. And, do you know what? It wasn't so bad, really. I coped. I didn't dare look down though, and when one slightly old lady came in the opposite direction, who obviously needed the handrail, we had to do a wee dance for possession. I wasn't giving it up, old biddy or no. I needed that rail!
There are a number of other exhibitions and gardens to visit within the complex, but we had to limit our time with two little jetlagged toddlers (and two tired parents), but we know we'll be heading back via Singapore so we'll be able to check out the Flower Dome the next time.
You can find out more information about the Supertree Grove and gardens, as well as how to get there, on the Gardens by the Bay website.
*OCBC Bank is the Gardens'by the Bay biggest sponsor.