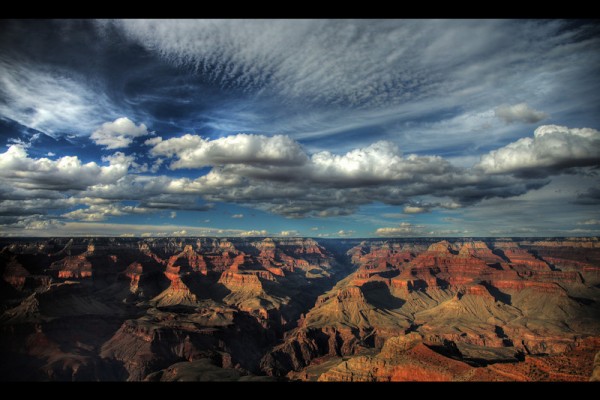 Far below the rim of the Grand Canyon hides a little cluster of rustic cabins dating back to 1922. Accessible only by foot, mule or raft, these cabins, known collectively as Phantom Ranch, provide intrepid explorers with a chance of a truly outside-the-box eco experience.
It's one you'll never forget.
What Goes Down Must Come Up
Yes, it is normally the other way around, but not in this case.
Phantom Ranch sits about 4,800 feet lower than the South Rim of the Grand Canyon, and about 5,800 feet lower than the North Rim. And if you haven't skipped the intro you'll have noticed the limited routes of access.
So, if you've made the descent by foot, you need to muster up the energy to get your weary bones back to the top. And if you've managed to cajole a mule into carrying you down, well hopefully you'll at least feel sorry for the poor ass on the ascent.
Only Lodging Below the Rim
Despite the vast area of the base of the Grand Canyon, Phantom Ranch is strangely the only accommodations available in the area. But that's not a bad thing – it saves this wonderful natural habitat being inevitably spoiled by tourists, which, regardless of how hard they tried not to, would happen.
Built of wood and natural stone, the lodge and cabins are designed to nestle into the surroundings and not detract from the scenery.
And if you're looking for a full-on rustic experience, this is it. Amenities are present, but far from luxurious – each cabin is kitted out with cold water sinks and toilets, and there are showers onsite.
Various sleeping arrangements are available to suit different sized parties. There are 11 cabins in all, with one male and one female dorm, each offering up to 10 bunk beds.
Hike on Your Own Schedule
Phantom Ranch is a popular stop-over with hikers walking the Bright Angel and Kaibab trails.
The steep descent means there are about six miles of switchbacks to the canyon floor, which could make it hard going for some. If you opt to stay at the ranch for a few nights you'll be able to explore the along the Colorado River, recoup your energy stores and hike the six miles back up the trail when you're ready.
Temperatures are known to reach into the 100s May to September, so you will need to start out early, hopefully arriving at the ranch by noon.
Problems and Passes
Be aware that you will need a back country pass to camp anywhere. And, make sure you've signed in with the rangers to ensure they know your whereabouts. While accidents are rare in the canyon, if you or a member of your party falls or gets into trouble along the way at least you'll know someone will come looking for you, eventually.
The temperatures are also about 20ºF different than the rim, so remember to pack layers and allow for the fluctuations of day/night temperatures.
And make sure you carry enough water with you so the rangers don't have to come to your rescue.
Finally, scorpions and other critters are an assumed risk of the desert. Be aware of their normal lurking spots, and don't forget to shake your shoes and clothes before you put them on in the morning. The last thing you want to remember your holiday by is a nasty bite mark.
Bookings
Phantom Ranch books out fast. In fact, you need to reserve about 13 months in advance! If you can't sleep at the ranch, you will need a back country permit for the adjoining campground.
While meals are available to buy at the ranch, you are allowed to bring your own food with you. And if you're going hiking, that's recommended.
If you'd like to learn more about Phantom Ranch and surrounds, check out the Grand Canyon National Park website.
Prices: Dorm beds, $44.17 per person per night; Cabin for four people, $144.37 per night.
Images Credits: Grand Canyon NPS / Grand Canyon Lodges / Lead image by Simon Tong
KEAG4A8YRUFA